Last week, Foreign Policy published a piece on the tremendous uptick recently in attempts by Ukrainian politicians to establish contacts with Washington. One Congressional staffer told FP that he sees Ukrainian lawmakers on Capitol Hill daily, with over 70 politicians from the Eastern European country descending upon Washington recently for an official trip. 
The publication explained that the uptick in activity was connected to the "outsized role" that's played by the US in Ukraine's domestic politics, and the fact that Washington's support "can make or break a [Ukrainian] politician's career."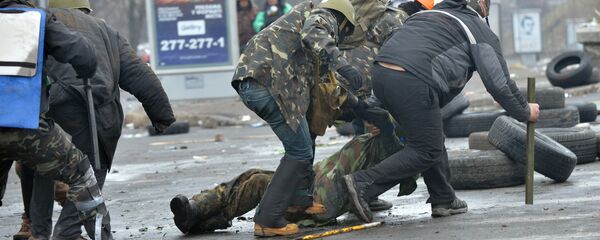 22 February 2017, 12:06 GMT
US and EU political influence in Ukraine grew enormously following the February 2014
Maidan coup
, with Obama administration officials including US Ambassador to Kiev Geoffrey Pyatt and Secretary of State for European and Eurasian Affairs Victoria Nuland
caught handpicking
opposition figures to replace ousted President Viktor Yanukovych.
However, since the November presidential election in the US and Donald Trump's surprise victory, Kiev has been extremely anxious that its patron status with Washington may be coming to an end. Over a month into Trump's presidency, Ukrainian officials are still unclear about Trump's Ukraine policy, and concerned over his talk about potential cooperation with Moscow, particularly on issues like terrorism.
Meanwhile, amid the ongoing transition period in Washington, Kiev is also looking to take advantage of a lack of coordinated Ukraine policy by the White House, and attempting to extract guarantees of support from anti-Russia hawks like John McCain, as well as some members of Trump's staff (possibly including Vice President Mike Pence and Secretary of Defense James Mattis. However, the Trump administration's lack of clear policy has already fueled "domestic political rivalries that could threaten the country's stability," the Foreign Policy piece concluded.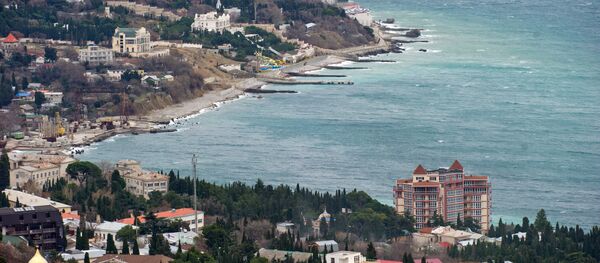 26 February 2017, 17:51 GMT
Asked to comment on the growing political uncertainty in Kiev, Andrei Suzhdaltsev, a professor of political science at Moscow's Higher School of Economics,
confirmed
to Radio Sputnik that Kiev is placing high hopes on these US visits, but added that its officials aren't accounting for some very important factors. 
Kiev's goals, according to the expert, include making an effort to make things right with Trump after spending over a year trying to sabotage his electoral chances.
Throughout last year, officials in Kiev repeatedly criticized Trump, smearing him as a "dangerous fringe politician" who was a threat to the Western world, and launching an investigation against former Trump campaign advisor Paul Manafort, trying to hit at Trump's reputation by association. 
Today, Suzhdaltsev noted, Kiev is bending over backwards to try to turn the tables after putting all their eggs in the Hillary Clinton basket. "The entire Ukrainian elite had been confident in a Clinton victory," he recalled. "Now, Kiev is trying to explain itself by saying that they were confident that Clinton would support Ukraine in its fight against Russia, while Trump has yet to prove his support."
"In other words, Kiev has changed its assessment [of Washington] from a 'positive' to a 'negative'," the expert noted. "Kiev thinks it can give 'grades' to Western countries, because it is located on the 'front lines' of a struggle against Russia."

27 February 2017, 13:06 GMT
Accordingly, the expert stressed, Ukraine's elites are betting everything on the US and Russia remaining bitter opponents. They are even hoping that sooner or later, Washington will deploy its missile shield in western Ukraine, which would threaten Russia and thus exacerbate tensions further.
Ukrainian lawmaker Serhii Berezenko, one of the lawmakers hoping to a revival of Obama-style relations with Trump, confirmed that Kiev was counting on Washington "com[ing] to Ukraine's aid" against the 'Russian threat'. In a recent op-ed for The Hill, he stressed that Kiev was "eager for inclusion in NATO" and hopes to be a "key strategic partner to America and Europe…a democratic firewall against the expansionist policies of Putin's Kremlin."
Unfortunately for Kiev, Suzhdaltsev explained that Ukraine is not the only Eastern European country trying to convince Trump to commit US resources to fight off the phantom Russian boogieman.
"Ukraine can offer itself up as a bargaining chip between the West and Russia," the analyst noted. "Or it can promote itself as a giant [NATO military] base in Eastern Europe…Meanwhile, in neighboring Poland US missile defenses are already being deployed. And here an interesting theme emerges, where Russia's western neighbors start competing with one another for the right to be 'victims'," and the associated military and financial benefits that come with this status.

22 February 2017, 14:49 GMT
Poland, Suzhdaltsev explained, can present itself as the eastern outpost for NATO and EU eastern policy; the Baltic states, meanwhile, are constantly sounding the alarm about imminent war and Russian occupation. "They would like to get investment and [aid] money for their economies. But the fact is that no one is going to invest in countries that consider themselves victims of future attacks," the analyst noted.
"The same situation is emerging in Ukraine," the analyst stressed. "Kiev is only just starting to realize that no one is going to invest in its privatized assets, because it's constantly yelling about a Russian invasion, occupation and war any day now. This is a very reckless policy," Suzhdaltsev concluded.
Whether the Trump administration can come to an agreement with Russia, particularly on the President's campaign pledge of anti-terror cooperation, remains to be seen. But even if an agreement can't be reached, this is no guarantee that Trump will continue the Obama policy of throwing endless US resources into the black hole that is Ukraine's current economic, political and military situation. This is something Kiev likely understands only too well.