UNITED NATIONS (Sputnik) — Clashes between Azeri military and forces loyal to the self-proclaimed Nagorno-Karabakh Republic (NKR) have continued despite a Russia-mediated truce. On Monday, Azerbaijan accused the Armenian-majority NKR of violating the ceasefire 85 times.
"He calls on all sides to refrain from any actions that would undermine the ceasefire agreement and urges the resumption of substantive negotiations leading to a peaceful settlement," Stefan Dyuzharrik, a spokesman for the UN chief, said.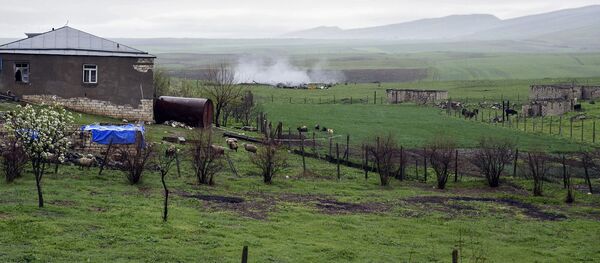 25 February 2017, 09:10 GMT
Guterres reiterated his support of efforts by Russia, France and the United States, the co-chairs of the Minsk Group, who are spearheading the process of finding a peaceful solution to the conflict.
The conflict escalated in April, with Armenia and Azerbaijan accusing each other of provocations and attacks. On April 5, Baku and Yerevan signed a ceasefire in Moscow following Russian mediation, yet hostilities continued.
The Nagorno-Karabakh Republic, populated mostly by ethnic Armenians, proclaimed its independence from Azerbaijan in 1991 after the collapse of the Soviet Union. In 1992–1994, during a military conflict with the self-proclaimed republic supported by Armenia, Azerbaijan lost control over the region.