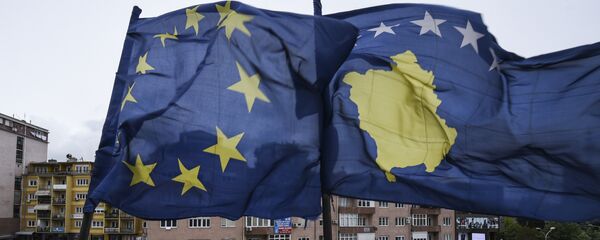 24 February 2017, 13:44 GMT
Earlier this week, Kosovo President Hashim Thaci sent parliament a bill on transforming the Kosovo Security Force (KSF) into a national army.
In another development, NATO Secretary General Jens Stoltenberg spoke with Thaci and Kosovo Prime Minister Isa Mustafa via phone to express the "serious concerns of NATO allies" about Kosovo's militarization, the news website Balkan Insight reported.
"I made clear that unilateral steps such as these are unhelpful, and I urged the Kosovo authorities to remain in close contact with Serbs in Belgrade," Stoltenberg added.
NATO has approximately 4,500 troops stationed in Kosovo, which unilaterally proclaimed independence in 2008 and is recognized by over 100 UN member states. Serbia, as well as Russia, China, Israel, Iran, Spain, Greece and other countries don't recognize Kosovo's independence.
Serbian parliament members, for their part, said that they would block amendments to Kosovo' constitution that would allow the partially-recognized southeastern European country to engage in the arms build-up.

17 February 2017, 14:54 GMT
Three years ago, Kosovo made plans for a national army, but heretofore has been unable to overcome Serbian opposition within the Kosovo parliament.
In an interview with Sputnik Serbia, Milovan Drecun, chairman of the Serbian parliament's Committee for Kosovo and Metohija, specifically underscored the importance of adhering to a relevant UN resolution on the issue.
"A KFOR mission and NATO should respect UN Security Council Resolution 1244, which does not stipulate creating Kosovo's army. Meanwhile, relevant preparations have taken place for several years now, with NATO instructors training Kosovo soldiers. Actually, NATO created this army, which is why it's clear that Thaci [should] avoid making steps that would be out of line with the position of NATO and the most influential members of the alliance," Drecun said.
He added that "NATO and the US are trying to give a kind of legitimacy to Kosovo's move [to create its army], because even for them it is unacceptable that the Serbs, the second most influential national community in the province, were excluded from this process."
Drecun also said that Kosovo Serbs and Belgrade should [be engaged in] more diplomatic efforts within the UN, the EU and NATO in a bid to prevent Thaci from implementing his plans.
"It is necessary to point out to everyone that the [possible] Kosovo national army would become an additional destabilizing factor in the already destabilized situation," Drecun stressed.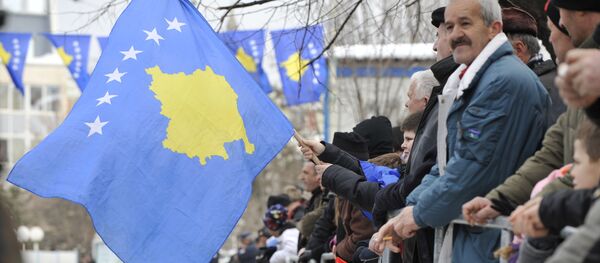 18 February 2017, 12:36 GMT
Meanwhile during telephone talks with Serbian Prime Minister Aleksandar Vucic on Wednesday, Thaci warned Belgrade against interfering in the domestic affairs of the "sovereign state", but said that Vucic should make Serbian MPs support Pristina's push for creating the Kosovo army. 
In separate development, the leader of Kosovo Albanians told Radio Free Europe/ Radio Liberty that the future Kosovo army would not pose a threat to the Balkans.
Instead, he did not think twice before pointing the finger at "the Russia's bases, MiG fighter jets and military exercises in Serbia."
Never miss a story again — sign up to our Telegram channel and we'll keep you up to speed!