The campaign kicks off March 11 with a US-wide online event billed as "resistance training" that will be livestreamed to more than 2,300 gatherings across the country.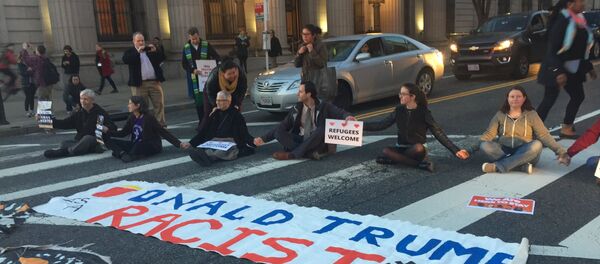 28 January 2017, 22:54 GMT
People Power is "the ACLU's new effort to engage grassroots volunteers across the country" to explicitly fight the policies of US President Donald Trump, the organization says on its website. The first People Power push is to create a network of "freedom cities" that can capably use their own local autonomy to fight or subvert Trump's policies, particularly on immigration and surveillance.
"As Donald Trump does what he does, the greatest political power is in the cities and towns across America," ACLU National Political Director Faiz Shakir told the Guardian. "Because constitutionally, cities have sovereignty rights unto their own."
"Essentially we want people to think of their cities as cities of resistance," Shakir said.
The campaign marks a change for the 98-year-old ACLU, which has historically focused on court battles. But with membership tripling to more than 1 million since Trump's election, the organization wants to harness the current wave of energy in a broader capacity.
According to a memo given to the Washington Post, the ACLU is recruiting volunteers for "a plan to fight the Trump administration lawfully and systematically, not just by defending each individual as they are detained, harassed, or deported."
They have more than 2,000 such volunteers already, the Washington Post reports.
The ACLU has developed nine model state and local ordinances for activists to organize around, with the intention that they push their elected officials to adopt them.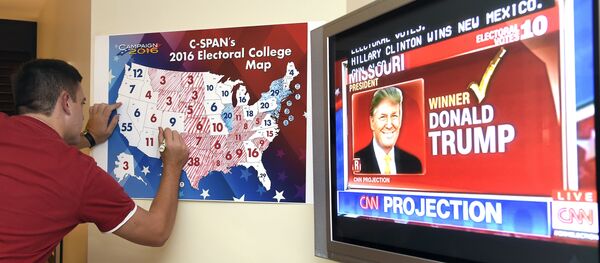 14 November 2016, 23:28 GMT
"As a volunteer organizer you don't have to understand all the ins and outs of the legal language to advocate for these policies and rules," the ACLU explained in the memo. "What you need to know and advocate for is that these are the policies and rules for law enforcement that the ACLU has determined our cities, towns and counties need to protect Muslims, immigrants and refugees from some of the worst abuses of the Trump administration."
The People Power website will operate as a resource hub for activists.
ACLU Executive Director Anthony Romero told Reuters that while the organization's previous smaller, older membership was happy to send money for the legal body to practice it's advocacy, "[w]hat's clear with the Trump election is that our new members are engaged and want to be deployed."
"People are wide awake right now and have been since the night of the election."