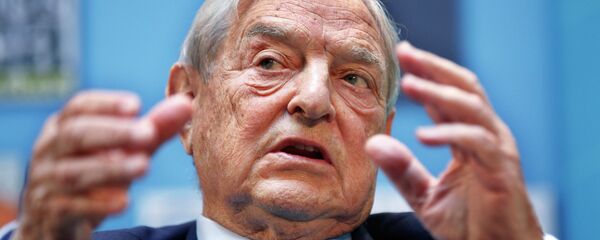 20 February 2017, 17:40 GMT
A number of European countries, including Hungary, Poland and the Czech Republic, have unleashed a barrage of criticism against US-backed non-government organizations (NGOs).
Groups affiliated with the US billionaire George Soros have attracted the most ire, as prominent political figures like Hungarian Prime Minister Viktor Orban and Czech President Milos Zeman have accused these groups of meddling in their nations' internal matters.
However, Anatoly Petrenko, a professor at the Social Management Academy, told Sputnik Radio that despite the European leaders' reaction, the US is unlikely to give up on using NGOs to advance its agenda in foreign countries.
"Let's just say that it is a very convenient method of 'exporting democracy', so to speak. Perhaps some kind of transformation will take place and they will switch to more sophisticated methods. Maybe these organizations will revert to their original methods, when they were training and teaching other people instead of directly taking to the streets," Petrenko said.
He also expressed skepticism about claims that these organizations are not affiliated with the US government.
"Everything these organizations do, they do by spending certain amounts of money – money they receive from the budget. This is, after all, not some kind of sponsorship by Soros who earned himself some money and now spends it on democracy in the world," Petrenko explained.
Earlier, US President Donald Trump declared that the US will no longer try and impose its political system upon other countries, and according to Petrenko, the European leaders regarded this statement as a kind of signal to them.
"Apparently they regarded Trump's statement about the US refraining from imposing its democracy upon others as a sort of signal that now they can quietly curb the activities of these organizations (US-backed NGOs) in their countries. However, it remains to be seen if they (European leaders) actually do something about it," he remarked.