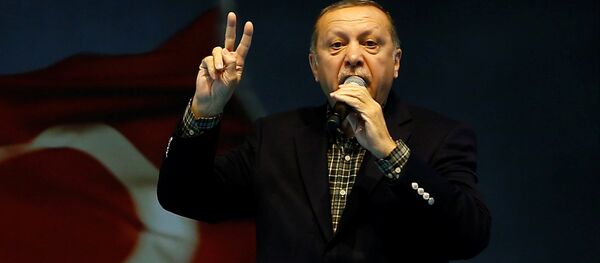 MOSCOW (Sputnik) — On Saturday, the Dutch authorities
barred the Turkish foreign minister from landing
, ahead of his planned
Turkish expat rally
at the embassy prior to the referendum on the constitutional changes.
On the same day, the Turkish family and social affairs minister was denied entry to the Turkish consulate in Rotterdam and then deported to Germany. Both the Dutch and German authorities have called off the family minister's campaign meetings.
Ankara reacted furiously, promising reciprocal actions and sanctions against the Netherlands. Turkish President Recep Tayyip Erdogan labeled the Dutch authorities' behavior as "Nazism."
"The quest for a reasonable compromise had proved to be impossible. The subsequent verbal aggression on the part of the Turkish authorities is unacceptable… The Netherlands continues to favour discussions with Turkey. The government is in continuing contact with the Dutch local authorities," the statement read.