"The Gerald R. Ford class is in serious trouble," he noted. These supercarriers "are overbudget and behind schedule. I am not exaggerating when I say that half the systems on them don't work. Their pilots have a long tradition of not being well-qualified in air combat maneuvering. My book documents extensive losses in simulated air combat exercises against Israeli, British, Canadian and Australian pilots for example. It's a big mess."
Thompson, a professor at Kyung Hee University in South Korea, further said that Donald Trump "is out of touch with reality" since he believes that the Ford class ships are masterpieces of engineering.
The defense analyst detailed his intimate knowledge of the US Navy in a book titled "Lessons Not Learned: The US Navy's Status Quo Culture." He argued among other things that the aircraft carrier is "a thing of the past" and "a relic of World War II," urging the Pentagon to focus on those vessels that are better suited for modern warfare.
Thompson mentioned three reasons behind America's reliance on aircraft carriers.
"They are trying to relieve their glory days in WWII when it was the US against Japan, carrier versus carrier, the Battle of Midway," he said, adding that Washington appears to believe that "the last great war that they fought" will be repeated again. "No great power in the world operates this many aircraft carriers anymore. <…> Several countries that did operate aircraft carriers, like Canada and Australia, eventually gave them up because they are not cost-effective."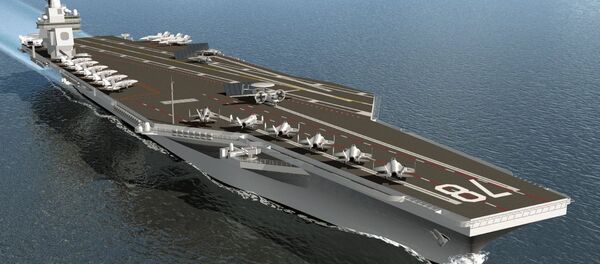 Thompson further said that the
US Navy
must maintain at least 11 aircraft carriers under the law.
"Right now they have ten. The law is technically being broken. And Trump wants to bring it up to twelve which has been promised before. That's not a new promise. Ronald Reagan wanted [the 600-ship Navy] and never got it. The law and the tradition of fighting the last war over and over again when there's nobody to fight is the reason why they're so obsessed with it. Also there's too much money and too many jobs associated with the military-industrial complex to so easily get rid of this outmoded type of ship," he noted.
© AP Photo / Steve Helber
People pose for photos in front of Navy aircraft carrier USS Gerald R. Ford during the christening of the ship in November 2013.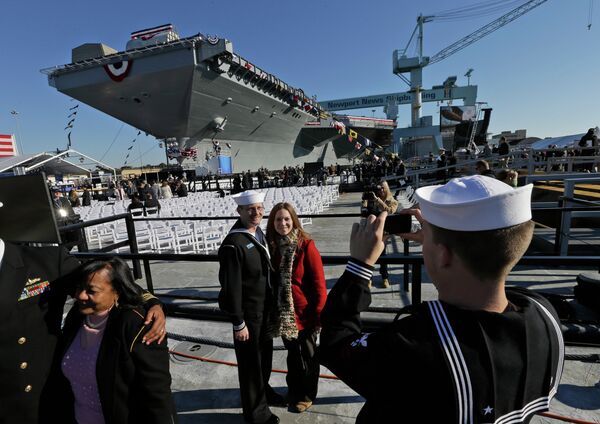 People pose for photos in front of Navy aircraft carrier USS Gerald R. Ford during the christening of the ship in November 2013.
© AP Photo / Steve Helber
The USS Gerald R. Ford, the lead ship of its class, is expected to be commissioned in 2017, three years behind schedule. The aircraft carrier is estimated to have already cost more than $12.8 billion as part of a $36.30 billion program plagued by cost overruns like other large-scale military initiatives, including the Joint Strike Fighter (JSF) and the Zumwalt-class destroyer programs.
In addition, there is mounting evidence that the US Navy aircraft carriers are increasingly vulnerable to submarines and newest anti-ship weapons.
"Against the submarine threat very little has been done, but I have been reading that carriers may be receiving laser guns … to knock down enemy missiles. The problem with that is that the US has a long tradition of not properly testing its weapons. So it may sound like a wonder weapon, but unless it's properly tested, it might not work effectively against a swarm of missiles. The defense against submarines remains weak," Thompson explained.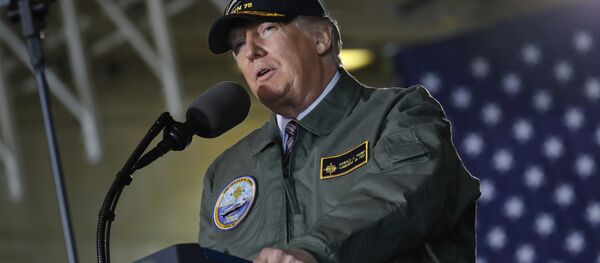 The defense analyst said that American anti-submarine warfare has largely been subpar compared to that of other countries, notably the United Kingdom and Canada which excel in this type of warfare.
Thompson has been critical of the US Navy, saying that has "a very dysfunctional and corrupt culture."
"They suppress evidence that aircraft carriers are vulnerable in exercises. That's well-documented in my book. Officers, who tried to report in publications that carriers were destroyed in exercises are harassed and kicked out of the Navy," he suggested.
Have you heard the news? Sign up to our Telegram channel and we'll keep you up to speed!