MOSCOW (Sputnik) — According to the Hurriyet Daily newspaper, the first note criticized the treatment of Turkish Family and Social Affairs Minister Fatma Betul Sayan Kaya, who on Saturday was denied entrance to the Turkish consulate in Rotterdam after a visit to Germany, with Dutch police blocking her car.
The second note reportedly expressed concern over what it called "disproportionate" response of the Dutch police to the peaceful gathering of the protesters in front of the Rotterdam consulate.
The note added that Ankara was expecting an official apology from Amsterdam for actions that it deemed incompatible with diplomatic protocols and international law, the newspaper reported.
The Dutch authorities declared Kaya "an undesirable alien" after calling off her campaign meetings and had the police escort her to Germany.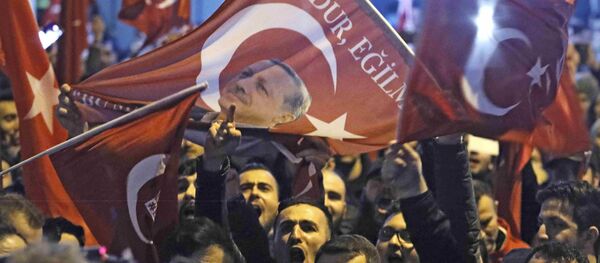 According to media reports, the Dutch police used force, including mounted police units, on Sunday to disperse the protesters in Rotterdam.
On Thursday, Dutch Prime Minister Mark Rutte said he would not welcome rallies attended by Turkish Foreign Minister Mevlut Cavusoglu in the Netherlands. Leader of right-wing Party for Freedom (PVV) Geert Wilders called on the Turkish authorities to ban the entire Turkish Cabinet from entering the Netherlands after the announcement of Kaya's plans to visit the country.
Several rallies in support of the Turkish constitutional referendum have been canceled in Germany and at least one in Switzerland, ostensibly for security reasons, while the meeting in the French city of Metz proceeded on Sunday, with Cavusoglu giving a speech.
Ankara has been seeking support from Turkish expats for a constitutional change that would increase the president's powers. The Turkish referendum on the constitutional amendment is scheduled for April 16.