At his regular press briefing Friday, referring to the latest MSM accusations against Russia in Syria, Konashenkov noted that "the cookie-cutter reports on the situation in Syria, based on the 'testimonies' of local 'activists' taken from social networks only serve to harm the reputation of international organizations and authoritative news media, rather than helping to solve Syria's humanitarian problems."

Such groundless reports will not help feed or provide medical aid to Syrians, or put roofs over their heads, the spokesman emphasized.
With the Russian military actively fighting to help free Syria from terrorism, and simultaneously sending dozens of tons of aid, providing medical assistance and sappers to demine liberated cities, Konashenkov couldn't hide his indignation about the defamatory content of many media reports. These, he said are equivalent "to a garbage pile of fakes and bare-faced lies, for which colossal budgets have been spent."
© Photo : Ministry of defence of the Russian Federation
 / Go to the mediabank
Major General Igor Konashenkov, the Russian defense ministry's official spokesman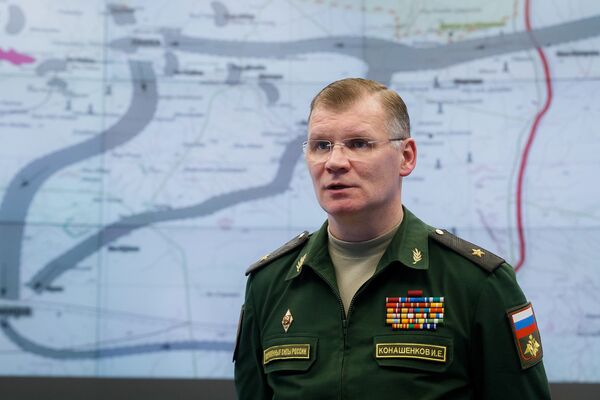 Major General Igor Konashenkov, the Russian defense ministry's official spokesman
© Photo : Ministry of defence of the Russian Federation
/
Ultimately, Konashenkov recommended that instead of spreading this fake news, Western media would have been better off simply sending their vast budgets as aid to Syrians who have suffered from this war.
Commenting on Konashenkov's report, RIA Novosti contributor Andrei Kots wrote that it has again demonstrated that the "traditionally dry and laconic tone of representatives of the Defense Ministry at the beginning of the Russian military operation in Syria has morphed beyond recognition. Generals no longer hesitate to openly deride the latest 'sensations' in the media."
"And it's easy to understand them," Kots stressed. "Taking many of the stories found in Western media seriously really is quite difficult." What kinds of fakes did Konashenkov have in mind exactly? There are several types, the journalist explained.
'Russian Madmen Deliberately Target Schools and Hospitals'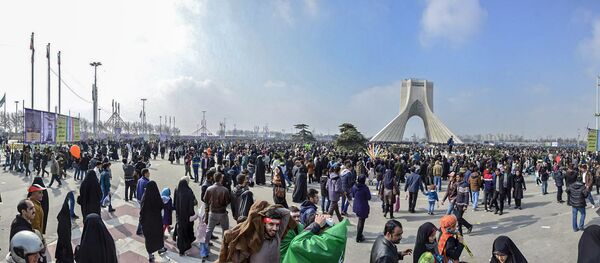 Perhaps the most prominent of the organizations the MSM relies on for its Syria content is the so-called Syrian Observatory for Human Rights (SOHR), a source regularly cited by media, but also by organizations such as Amnesty International, the Atlantic Council, Human Rights Watch, and others.
Unfortunately, as researchers looking into the origins of this influential resource have discovered, SOHR is run by just one man – Osama Suleiman, who lives and works not in war-torn Syria, but in pleasant and peaceful Coventry. SOHR liberally publishes stories about what's happening inside Syria, including figures on civilian casualties, all without sharing its methodology or how it actually gathers its information. That, combined with Suleiman's mysterious origins, has led to concerns.
When the Western media referred to the London Observatory for Human Rights in Syria, a normal human causes only laughter pic.twitter.com/4tVv0ZVxtU

— ivan poddubniy (@solnzedar) December 12, 2016
Syrian Observatory of Human Rights is run by one man. Based in the UK. He was jailed 3 times while in Syria and once after leaving.

— Taz (@TazMort) December 19, 2016
Suleiman seems to have made it his personal mission to 'expose Russia's crimes' in Syria ever since the Russian operation in the country began in September 2015. At the very start of the campaign, citing 'opposition sources', SOHR accused Russian aviation of deliberately targeting a hospital in Hama province in October 2015. Western news agencies quickly picked up and ran with this story, even though the SOHR never offered a shred of proof for the claims. 
A month later, SOHR accused Russia of targeting a second hospital, this time in the town of Sarmin, northwest Syria. Its evidence? Photos of a pile of rubble. Unfortunately for SOHR, the Russian Defense Ministry decided to react, and ultimately had no problems disproving this fake. With the help of aerial photography, taken a week after Russia had supposedly 'destroyed' the hospital, it was discovered to be intact and operating.
aerial photos show as fakes the allegations of hospital allegedly destroyed in Syria by… https://t.co/akiBhuMMm5 pic.twitter.com/zjrXqYKp5T

— SyrianFreePress.net (@SyriaNetwork) November 5, 2015
Similar tactics have been deployed by the SOHR again and again, including the ploy of often using photos of infrastructure destroyed by militants themselves and then presenting them as damage caused by Syrian or Russian jets.
Other rights groups have also joined in with even more brazen allegations. In December 2015, Amnesty International accused Russia of deliberately targeting half-a-dozen hospitals, health centers and schools in the provinces of Homs, Idlib and Aleppo. Russia asked Amnesty to provide its evidence, getting the response that the sources were telephone interviews with 'local human rights activists' on the ground. The Defense Ministry then threatened to reveal the real sources of the information, after which the story went cold.
#FAKEAI Amnesty International, reveal who and when provided you with this so-called data or it will be done by the Rus MoD itself

— Минобороны России (@mod_russia) December 23, 2015
"A characteristic feature of all these allegations is the lack of concrete evidence and references to anonymous witnesses," Konashenkov complained at a press briefing at the time.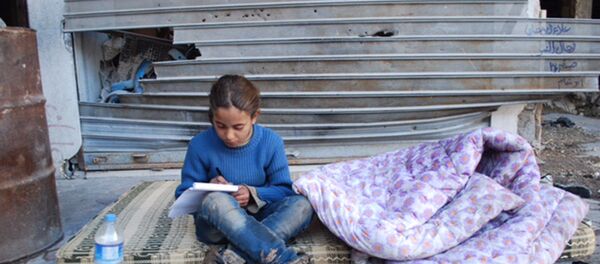 And all of this was just a couple 'trial balloons' compared to the mass hysteria that Western mainstream media unleashed against Damascus and Moscow in the summer and autumn of 2016, Kots noted. It was at this time that the Syrian Army, backed by Russian air power, began its operation to liberate the city of Aleppo - the main stronghold of what Western officials and media called the
'moderate opposition'
.
"Panicked reports of destroyed schools and hospitals began to appear weekly," Kots recalled. The Atlantic Council, an influential US foreign policy think tank, "issued a report in which it calculated as many as 400 (!) attacks on medical facilities by July 2016…And the closer the Syrian Army came to the city, the more such stories appeared."
The Award for Best Actor Goes to…
Once again, 'local activists' were the main and often only sources used by the rights groups and observers which the MSM based its reports on. In Aleppo, the stars of the show were the White Helmets, a group eventually discovered to be so full of jihadist sympathizers that they've been dubbed 'Al-Qaeda's Civil Defense'.
Eagle-eyed social media users often caught these militant wolves in rescuers' clothing staging video and photo shoots of 'rescue' operations of the 'victims' of Russian bombings. 
🆘‼️🏆👍 The Oscar for best actor performance goes to the white helmets in Syria. Rescue a girl at three places for the third time. pic.twitter.com/xioP4Imlyk

— Onlinemagazin (@OnlineMagazin) November 8, 2016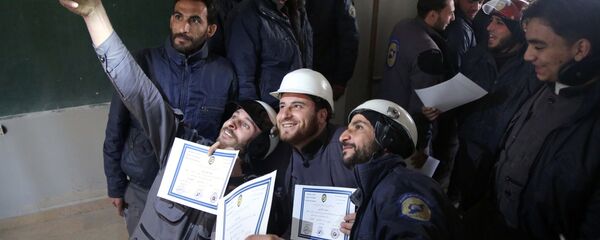 27 February 2017, 18:07 GMT
Ironically, the White Helmets even
won
the Oscar for best short documentary film last month. But as the mounting evidence against them suggests, the award they really deserved was for best fiction screenplay.
Social media and independent journalists discovered the group's ties to jihadists, their mysterious connections to British intelligence, and gathered photos of them posing with Nusra Front fighters, and toting automatic weapons to boot, indicating that many seemed to serve as fighters by day, PR stuntmen by night.  
🔴 #Oscars pour le doc #WhiteHelmets.
Malaise général alors que certains protagonistes étaient dans les rangs d'Al-Qaida en Syrie (Nusra). pic.twitter.com/IYCY1YgPEf

— Jean-Paul Ney (@jpney) February 27, 2017
Overall, the White Helmets' efforts had some success. Western media and government officials soon began calling the Syrian and Russian military operation a 'war crime', 'genocide' , or, as then-CIA director John Brennan categorized it, 'scorched-earth policy'.
Fortunately, not all US and European media fell for the propaganda of groups like the White Helmets or the SOHR. Late last year, in his regular column in the Daily Mail, columnist Peter Hitchens pointed out that amid all the accusations, against the Syrian and Russian militaries, there were no actual Western news correspondents in and around Aleppo.
The MSM's reports, Hitchens added, were often "written or transmitted by people in Beirut (180 miles away and in another country), or even London (2,105 miles away and in another world)." 
Child Abuse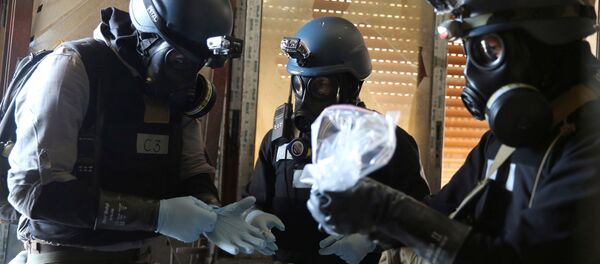 Arguably the vilest tactic employed by militants and their sympathizers throughout the Syrian campaign has been to use children in their propaganda.
Most famous among these children has been Bana Alabed, a 7-year-old girl from eastern Aleppo whose fame exploded on social networks last fall. With help from her mother, Bana kept up a blog on Twitter, talking about the difficulties of life in the besieged city, and calling on the international community to do something about the Syrian and Russian military campaign.
The messages were written in excellent English, with Bana publishing up to 120 messages a day from a part of the city known not to have access to electricity. In early 2017, Bana and her family moved to Turkey, where she met with President Recep Tayyip.
Reporters soon began discovering holes in Bana's story, finding out that the little girl couldn't speak English. That in turn has led to concerns that she may have been manipulated, with others calling her use for propaganda purposes blatant child abuse. Others pointed out that her father was a member of the 'Al Safwah Battalions', an Islamist group supported by Ankara. Unfortunately, by the time the discoveries were made, the Aleppo campaign was over and the media turned its attention elsewhere.
We are still waiting for a @CNN interview with Bana in English to verify that no one else wrote her perfectly English tweets from E Aleppo!

— Fares Shehabi (@ShehabiFares) January 31, 2017
Bana's father was part of "Al Safwah Battalions" in Aleppo, the same group is fighting for Erdogan in Euphrates Shield now. Coincidences... pic.twitter.com/GGrhgmnni6

— Moderate Sander (@sjaeldenSander) February 8, 2017
Evidence of this disgusting tactic was also demonstrated with Omran Daqneesh, the little Aleppo boy in an ambulance whose shocked and bloodied image went viral around the world. Rights activists had said that the boy had been the victim of a Russian airstrike one fateful August evening. President Bashar Assad angered reporters when he said that the image was a fake. But social media again soon discovered that the president was right all along.
Remember CNN's "Aleppo Ambulance Boy?"

-No first aid?
-No tears/pain?
-"Pictures first!"
-Photogs also "ISIS-friendly"#MediaLiesAgain pic.twitter.com/ux4jkbzAjo

— An Reporter (@ImAnReporter) February 17, 2017
Ultimately, the pattern emerging from all these accusations, whether from Coventry-based rights groups, jihadist-affiliated 'rescue workers', or the accounts of certain social media celebrities, is as follows: the claim is made, the MSM takes the story and runs with it, Damascus and/or Russia disprove the allegations, the MSM forgets the story and moves on to something new. Unfortunately, as is often the case, the refutation often gets much less attention than the initial accusation. And that, most likely, is what those waging this information war against Syria and Russia seem to be counting on.