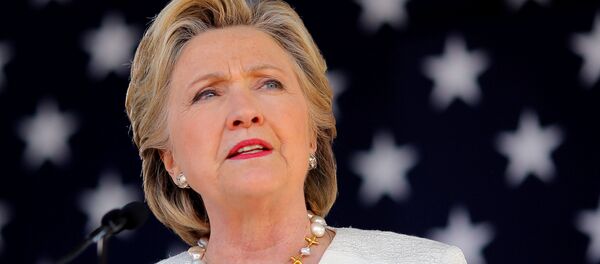 2 November 2016, 09:02 GMT
Adam Schiff, top Democrat on the US House Intelligence Committee, started the hearing by accusing Russia of "launching a desinformation campaign, using RT."
He also accused Russian intelligence services of launching hacker attacks. Schiff said that Trump benefited from alleged Russia's medding. He claimed that July and August 2016 had been "pivotal" in Russia's alleged activities to influence the US election.
However, he said that "we'll never know" if alleged Russian actions determinted the outcome of the US vote.
The Kremlin has repeatedly denied any accusations of Russia allegedly attempting to sway the US election to Trump.
"Russia successfully meddled in our democracy and they'll do that again," Shiff claimed during the hearing.
Schiff also accused Moscow of allegedly influencing "democracies" in Europe via different means.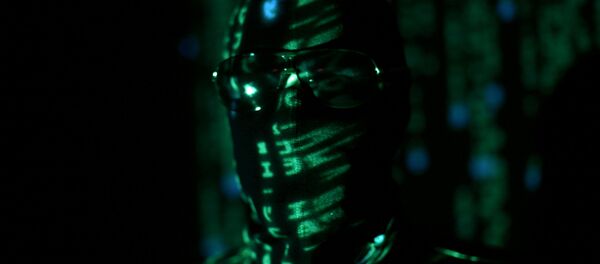 13 January 2017, 09:15 GMT
Schiff accused Trump's campaign advisor Carter Page of secretly meeting Rosneft CEO Igor Sechin, who had worked for the KGB before the fall of the Soviet Union. He also claimed, however, without presenting any proof, that Russia has allegedly used "same techniques" to "corrupt officials in the US" as in Europe, saying that this "should concern all Americans."
Schiff also cited media reports and even Trump's tweets to prove Russia's alleged involvement in the US election.
"We're now engaged in a new war of ideas," Schiff continued.
NSA Director Admiral Michael Rogers, who has been second to address the hearing, said that the NSA worked closely with the US Intelligence Committee to provide information on alleged Russia's interference.
Meanwhile, FBI chief Comey said at the hearing that the FBI is investigating alleged Russian government's efforts to interfere in the US presidential election.
"I have been authorized by the Department of Justice to confirm that the FBI, as part of our counterintelligence mission, is investigating the Russian government's efforts to interfere in the 2016 presidential election," Comey stated. "And that includes investigating the nature of any links between the individuals associated with Trump campaign and the Russian government."
Comey advised not to draw any conclusions before the investigation has ended. However, he gave no timetable when the probe would be finished.
The FBI investigation into the cyber breach of the Democratic National Committee computer systems sought to determine if Russia was involved when the probe began in July, Comey said.
"This investigation began in late July so for a counterintelligence investigation that is a fairly short period of time," Comey told the US House of Representatives Intelligence Committee.
Rogers and Comey testified that Russia didn't in any way change vote tallies in any of US states.
"No, I do not," Rogers said in a House Select Intelligence Committee hearing when asked if he had any evidence that Russian cyber actors changed vote tallies in Michigan, Pennsylvania, Wisconsin, Florida, North Carolina and Ohio. FBI Director James Comey also said that his agency had no such evidence.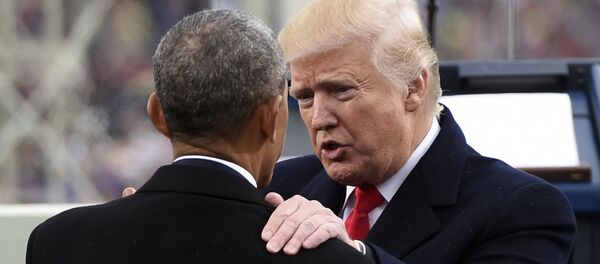 Comey agreed that Russia "covered up" its alleged hacker attacks by supposedly giving the DNC leaks to Wikileaks, a claim repeatedly denied by whistleblower itself, which said that the source of the Podesta emails is within Washington. When asked if Russia allegedly contacted Wikileaks indirectly, through an intermediary, Comey said "yes."
"We assess that they [Russian intelligence] used some kind of cut-out, they did not deal directly with Wikileaks, in contrast, the DCLeaks and Guccifer 2.0," Comey stated.
During the hearing, Comey commented on claims that Russia allegedly wanted Hillary Clinton to lose the US election. "This is a fairly easy judgement as he [Putin] hated Clinton "so much," Comey said, adding no further details and proving his accusations saying that they're "logical."
"They [Russians] wanted to hurt our democracy, hurt her [Clinton], help him [Trump]. All three [points] we were confident in at least as early as December," Comey stated.
The hearing also focused on US President Donald Trump's claim on Barack Obama allegedly ordering wiretapping Trump Tower during the election campaign.
Rogers commented on media reports of an "incidental collection" of surveillance information. He said that US persons' names are not mentioned if they turn out to be part of the so-called "incidental collection" when a foreign citizen is being surveilled and a US citizen has contacts with him, thus indirectly also turns out to be wiretapped.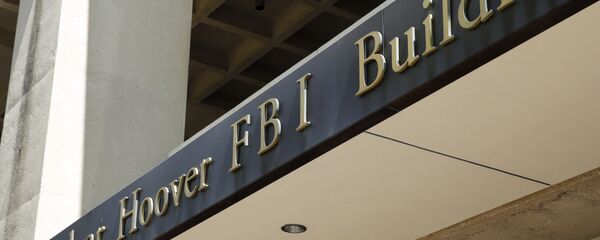 Twenty NSA staff members have an authority to "unmask" US citizens involved in the "incidental collection," Rogers said.
Rogers answered negatively when asked if he knows about any reasons why an intelligence officer can unveil the identity of a "masked" US citizen that was a part of the "incidental collection."
The hearing also touched upon the numerous leaks of classified information under the Trump administration. Rogers said he cannot comment on any details before a research is done, adding that the information is secret.
Comey said that a person who leaks classified information may face up to 10 years in prison for felony.
Comey was asked about the reports containing leaks of the former US national security advisor, Michael Flynn, with the Russian ambassador to Washington. "It's a serious crime," Comey said, commenting on the leaks of classified information in media.
When asked by Congressman Trey Gowdy if an investigation into the leaks of classified information to the press has started, Comey stated, "Can't say, because I don't want to confirm that that was classified information."
Gowdy was referring to classified information reported in the press about President Donald Trump's former National Security Advisor Michael Flynn's conversations with Russian Ambassador to the United States Sergey Kislyak during the 2016 US election campaign.
Comey said he has "no information that supports those tweets" with reference to Trump's claims that "Obama had my wires tapped." He added that the FBI looked into the issue very carefully. He also added that the president or any other US citizen cannot order such surveillance, only the courts can.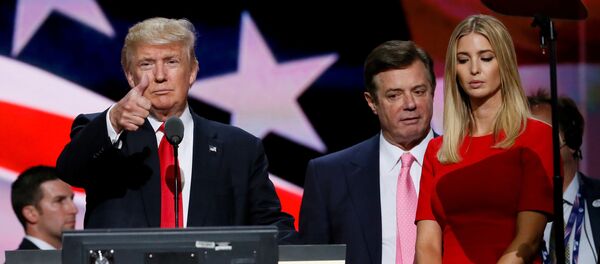 20 August 2016, 17:46 GMT
"The Department of Justice asked me to share with you that the answer is the same for [them] and all its components."
The number of unauthorized disclosures of classified information to US media outlets has significantly increased in the last six weeks, FBI Director James Comey said in a hearing at the US House of Representatives Intelligence Committee on Monday.
"In the last six weeks, couple of months, there is been apparently a lot of conversations about classified matters that ending up in the media," Comey stated. "It does strike me that there has been a lot of people talking or, at least, reporters are saying people are talking to them in ways, that have stroke me as unusually active."
The FBI director pointed out that sensitive information reported by the media frequently turns out to be inaccurate. Leaks should be investigated aggressively and individuals responsible found responsible prosecuted, he added.
Comey also noted that the FBI is duty-bound to protect the intelligence community's materials and correct erroneous media reports.
When asked if he agreed with British intelligence that Trump's suggestions they wiretapped him for Obama were nonsense and utterly ridiculous, The NSA chief responded, "Yes, Sir." Rogers also said the NSA never requested that British intelligence wiretap Trump Tower.
On Thursday, Trump's press secretary Sean Spicer repeated claims first made by Fox News analyst Andrew Napolitano that Obama had used UK Government Communications Headquarters (GCHQ) to conduct surveillance of Donald Trump during the 2016 US presidential campaign.
Most of the hearing was dedicated to media reports and Trump's tweets. When asked for specific details both Comey and Rogers refused to testify. Moreover, the FBI chief was asked about Russia's attitude toward NATO and Brexit as if it had something to do with the official topic of the hearing.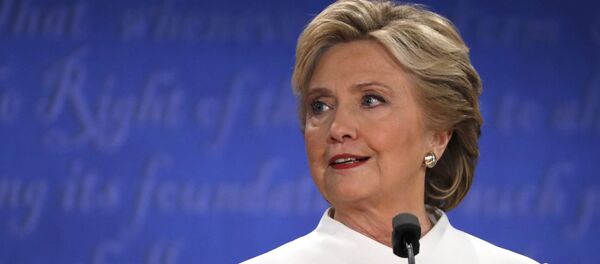 "They'll like to see more Brexits," Comey said when asked if Russia had benefited from UK's exit from the EU.
The ending of the hearing was dedicated to the work of RT, which was referend to the "arm of the Russian government."
Rogers and Comey were asked if Flynn knew RT is a "propaganda tool" when attending the RT 10-year anniversary, however, both intelligence chiefs said that they cannot answer questions concerning the knowledge of any person as they have no such information.
Retired Lt.-Gen. Michael Flynn has recently come under attack by the US left-leaning mainstream media over receiving money for a speech at RT's 2015 conference.
At the same time, the NSA chief was also asked about a topic not related in any way to the US election process; he was asked about Crimea and the Ukrainian crisis, raising questions whether the hearing was truly set to figure out whether or not Russia influenced the US election or to accuse Trump of siding with Russia.
Both the NSA and the FBI chiefs were also asked if Russia is a US' adversary. They both said "yes."
"They'll be back… because they've succeeded," Comey said when asked if in future Moscow will attempt to interfere in a foreign country's election process. "They'll be back in 2020, maybe back in 2018."
The US intelligence community is collaborating with its European colleagues over Russia's possible interference in election processes, Rogers claimed. Rogers claimed that Russia uses several methods to influence the outcome of elections in European countries. He asserted that Moscow has allegedly launched a disinformation campaign and attempted to release documents to embarrass certain candidates.