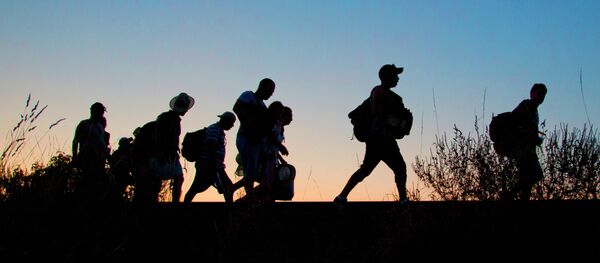 6 September 2016, 15:28 GMT
MOSCOW (Sputnik) — Hungary opened a military base in Hercegszanto near border with Serbia to prevent undocumented migrants from entering via soldiers' patrolling, Hungary's Defense Minister Istvan Simicsko said Monday.
"The soldiers are working in order to avert the possibility of hundreds of thousands of people marching through the territory of the country as they did in 2015," Simicsko was quoted by Novinite news agency as saying.
The Hercegszanto complex is located about 220 kilometers (140 miles) south of Budapest and expected to comprise about 150 soldiers.
Hungary has repeatedly opposed the European Union's position on immigration, in particular regarding the migrant quota system, which envisages the relocation of 160,000 asylum seekers across the bloc within two years, even threatening to sue the European Commission over the scheme. According to the country's Prime Minister Viktor Orban, immigration is one of the major threats to the status quo.
In 2015, Hungary built the first border fence to prevent illegal crossings. In late February, Budapest announced construction of the second fence on border with Serbia.