Speaking to Russian media, chief executive Alexey Krivoruchko said trials were underway, and it was hoped the pistol will be sought after by the Russian Defense Ministry and other international defense and law enforcement agencies.
The PL-14 pistol prototype, unveiled by the Kalashnikov Corporation at the 2016 Army Military and Technical Forum, was designed in cooperation with Russian law enforcement agencies and sportsmen.
The pistol is equipped with a thin chamber, but will still accommodate 9x19mm rounds, and indeed rounds of non-standard lengths — it will be 21 millimeters at the barrel, and 28 millimeters at the grip, and can be used by left and right-handed shooters. Its characteristics ensure reduced recoil and muzzle rise, and quick return to line-of-sight. The pistol's loaded chamber indicator also allows users to know by touch whether a weapon is loaded or not.
In February, it was announced Kalashnikov Concern would increase staff by 1,700, amid a surge in export orders. Russian weapons are regarded as extremely reliable (it famously has a 0.02 error percentage), efficient and combat-proven, and there is much clamor for Kalashnikov goods in overseas markets.
As military expert Igor Korotchenko previously told Sputnik, the US M16 proved unreliable in Afghanistan — US commandos had to rely on AK47s. Kalashnikov Corporation already sells civilian firearms and combat weapons in over 25 countries, including in Europe, Africa and Asia — for instance, Indonesian anti-drug agency BNN has ordered a large shipment of the weapons.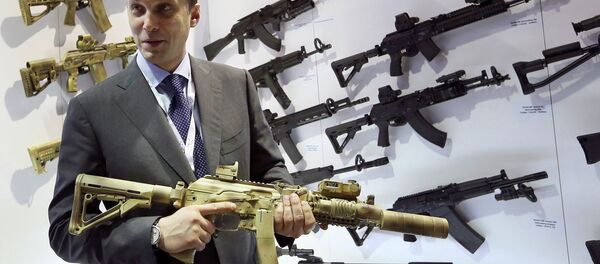 2 February 2017, 12:04 GMT
The US military in particular, is so smitten with the AK47 that it has continued to 
purchase the firearm
 via third parties (usually former Warsaw Pact countries), circumventing anti-Russian sanctions in the process. Many countries have sought to clone the weapon, 
including India
, but they never seem to get the formula just right.
While the company will perhaps always be synonymous with the famous assault rifle, it has begun to branch out into other areas, including drones — the ZALA 421-16E2, a sophisticated unmanned surveillance plane developed by subsidiary Zala Aero Group, was demoed at the March 2017 IDEX defense exhibition.
Another recent innovation is the RPK-16, a machine gun equipped with sniper sight and barrel silencer capable of firing single shots, unprecedented qualities in a type of weapon typically associated with strong recoil and long bursts of fire.