MOSCOW (Sputnik) — According to Lavrov, it is strange that the Balkan region is being perceived as the region of Russia's "provocative activity," and that any normal relations between Russia and the Balkans raise concerns in the West.
"The current situation in Macedonia is slightly more complicated, I'd even call it a crisis, in many respects provoked artificially, which is leading to the situation when attempts are made to split the society," Lavrov said in Moscow, expressing hope that "the West realizes the danger of such attempts."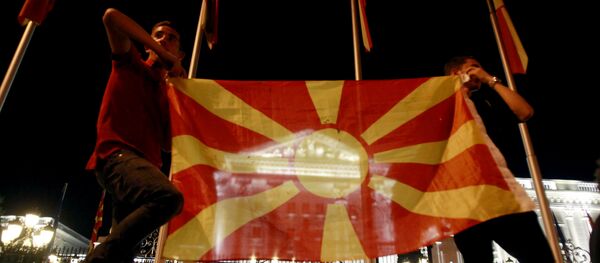 December's early elections in Macedonia resulted in the victory of the largest Democratic Party for Macedonian National Unity (VMRO-DPMNE), which got 51 seats, while 49 of the total of 120 seats were given to the main opposition party Social Democratic Union of Macedonia (SDSM). Since then, the parties have been attempting to form coalitions as neither of them has the sufficient number of seats in parliament to form the cabinet on their own.
Earlier in March, the Russian Foreign Ministry described Macedonia's opposition as "openly backed by the European Union and the United States" and said that EU Commissioner Johannes Hahn, EU High Representative Federica Mogherini and NATO Secretary General Jens Stoltenberg exert "unprecedented pressure" on Macedonian President Gjorge Ivanov to make him give the prime minister's post to the opposition.
Russia's Permanent Representative to the Organization for Security and Cooperation in Europe (OSCE) Alexander Lukashevich urged earlier in March the cessation of foreign interference in the internal affairs of Macedonia.