US European Command is in "need" of a "greater force" to deter Russia from invading the rest of Europe, Gen. Curtis Scaparrotti testified before the US House Armed Services Committee on March 28.
The additional forces could come in the form of an armored division of ground troops combined with reallocating sea-based assets closer to Russia.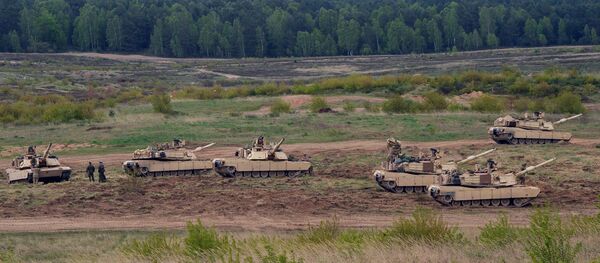 30 January 2017, 23:54 GMT
This isn't the first time the Pentagon has played on lawmakers' fears to ask for more money – and is probably not the last, either.
"I am suggesting an additional division because … I need armored and mechanized brigades," Scaparrotti continued. 
"They," Scaparrotti continued, referring to Russia, "are using similar weapon systems that can either be conventional or nuclear … and secondly, within their doctrine, they have made the statement openly again that they see a use for nuclear tactical capabilities within what we would consider a conventional conflict."
The general's comments come on the heels of massive ground force deployments by NATO and the US – the largest since World War II – on January 31, Sputnik reported. 
The US maintains that the troops are there to present a credible deterrence to what US officials allege is a Russian fervor for military aggression – even though US President Donald Trump's defense budget increase of $54 billion alone makes up 80 percent of what Russia spends on its military annually. 
A longtime Washington political strategist recently told Sputnik, "if you want to know what Democrats are up to, look at what they accuse the Republicans of doing."
In this case, the same might be said about foreign policy: If you want to know what the US is doing, look what it accuses its adversaries of doing.