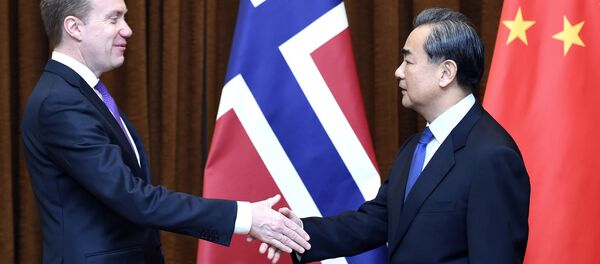 20 December 2016, 08:31 GMT
Erna Solberg's visit to China will be the first of its kind in several years. Norwegian-Chinese relations were put on ice in 2010, when the Norwegian Nobel Committee awarded the Peace Prize to Chinese dissident and democracy campaigner Liu Xiaobo. In recent months, Norway stepped up its efforts to normalize the relations with China, after the Nobel conundrum, which proved detrimental for the Norwegian economy.
The imposing Norwegian delegation, which in addition to Prime Minister Erna Solberg also features Foreign Minister Børge Brende, Industry Minister Monica Mæland and over 270 other members, will arrive in China with the clear intention of opening doors for Norwegian companies, the Norwegian daily Dagbladet reported. With environmental protection, efforts to combat poverty and a free trade agreement on the agenda, Norwegian fish exports are by far the most important part of the talks. Norwegian Fisheries Minister Per Sandberg, who will lead a separate seafood delegation to China later this spring, said he expected a tenfold increase of exports in the coming few years.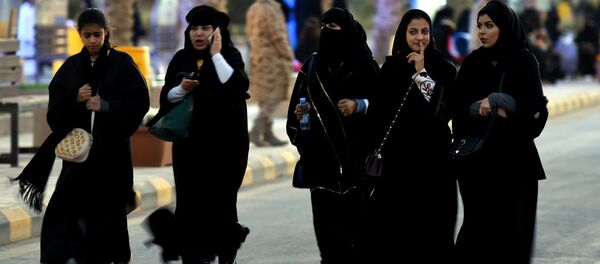 24 October 2016, 14:18 GMT
The news of the coming reconciliation was a cause for rejoice for Knut Roald Sørli, director of Innovation Norway in China. According to Sørli, Norwegian companies in China have been struggling since 2010.
"We see great opportunities now that the relationship is normalizing. The market for Norwegian salmon alone was 90 percent in China in 2010. Now it's only ten percent," Knut Roald Sørli told the Norwegian newspaper Verdens Gang.
Nor did Erna Solberg conceal her joy over the coming rapprochement with China.
"I am glad that we're now normalizing our diplomatic and political relations with China. The visit shows that both countries want to re-establish long-term, broad and forward-looking cooperation. Direct contact with the Chinese leadership is essential for a solid and predictable relationship, characterized by mutual interests, trust and understanding," Prime Minister Solberg said, as quoted by Verdens Gang, stressing the necessity of boosting relations with Norway's largest trading partner in Asia.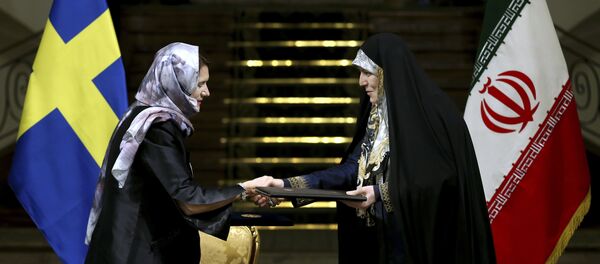 13 February 2017, 09:20 GMT
Ironically, the very same Solberg in 2010 supported the much-debated decision to award the Nobel Peace Prize to Chinese human rights activist Liu Xiaobo, which across Europe was hailed as an explicit condemnation of Chinese human rights violations. By contrast, human rights are notoriously absent from the Norwegian agenda in China this time, which spurred severe criticism from numerous human rights activists and Amnesty International as a humiliating fallback from a principled foreign policy.
In 2015, Norwegian exports to China reached 23 billion NOK ($2.7bln), which Norwegian officials view as sub-par, given the size of the Chinese economy.
On December 19, 2016, Norway and China signed a joint declaration, which in effect meant becoming "friends again." Meanwhile, Nobel Peace Prize Laureate Liu Xiaobo is still serving his 11-year prison sentence for subversion, while his wife is under house arrest.
​
Never miss a story again — sign up to our Telegram channel and we'll keep you up to speed!