During the December 2016 snap parliamentary elections, the pro-sovereignty Social Democratic Union of Macedonia (SDSM) party of Prime Minister Nikola Gruevsky emerged the outright winner, but the ethnic Albanian DUI party then sided with Zoran Zaev and his Social Democratic Union of
Macedonia (SDSM) party, which promised to vote in favor of a "genocide lawsuit" against Serbia.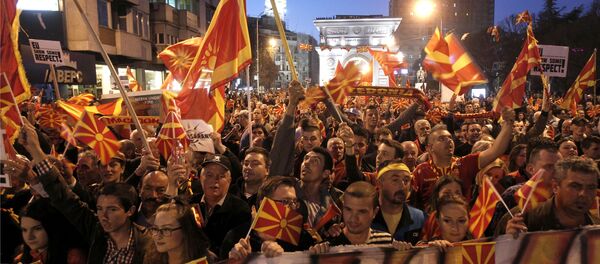 This is one of the points contained in the so-called "Tirana Platform" of ethnic Albanian parties in Macedonia and one of the conditions for Albanians to support Zaev to whom Macedonia's president has refused to give a mandate to form a government.
While Zaev enjoys the support of NATO and the European Union, President Ivanov's rejection of any foreign meddling in the country's domestic affairs won him the support of Russia and Hungary.
"It is important to keep in mind the fact the Albanian-proposed measures to federalize Macedonia, redraw its architecture of state power and even of state symbols is fraught with undermining the country's constitution and its ultimate breakup," the Russian Foreign Ministry said in an statement.
Meanwhile, Macedonia seems to have found a means of making the EU reconsider.
During their meeting earlier this month, President Gjorge Ivanov and European Council President Donald Tusk also discussed the migrant crisis, which is of vital importance to Brussels now that Turkey has hinted that it could unilaterally opt out of its 2016 refugee deal with the EU.
As a result, the hundreds of thousands of refugees currently in Turkey could stream into the Balkans and Macedonia could do nothing to check their spread to EU countries.
In an interview with Sputnik Serbia, Macedonian political analyst Brank Nedelkovsky said that even though President Ivanov has been tightlipped about the details of his meeting with Tusk, it looks like amid the current cooling of relations with the EU, the Macedonian president now has a trump card to play out against Brussels.
"If the EU keeps supporting Zaev and the 'Tirana Platform,' and if Turkey makes good its promise [to cancel the migrant deal with the EU], Macedonia will simply refuse to stem the tide of refugees heading towards Kosovo and Montenegro. Ivanov was elected president to stand up for the interests of his country," Nedelkovsky said.
"We are a small, landlocked country with neither navigable rivers nor oil, but we are a transit nation that could create problems for the EU. What I'm saying is that we could simply refuse to stop the migrant tsunami," Nedelkovsky warned.
In late December, Albanian Prime Minister Edi Rama invited the leaders of four Albanian parties in Macedonia to Tirana for a meeting at which they formulated the so-called "Albanian Platform," under the auspices of Tirana.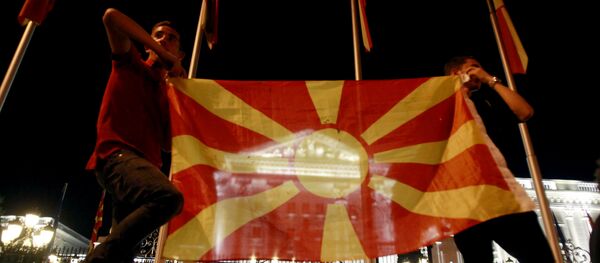 The four-pronged platform calls for the Albanian language to be granted official status in Macedonia, judicial reform, EU membership and NATO membership, DUI leader Ali Ahmeti said.
Tirana's meddling was criticized by the Macedonian foreign ministry, which called on Albania to refrain from stoking division in the region.
Tirana's attempt to destabilize Macedonia has been echoed by US politicians too. In February, chairman of the US Foreign Affairs Subcommittee on Europe, Eurasia and Emerging Threats Dana Rohrabacher told Albanian TV that that the country should be portioned, and "Kosovars and Albanians from Macedonia should be part of Kosovo."
Albanians are the largest minority ethnic group in Macedonia, and are a majority in some western regions. Their population has increased rapidly over the past century.
Never miss a story again — sign up to our Telegram channel and we'll keep you up to speed!