BRUSSELS (Sputnik) – The idea of laying blame for the suspected chemical weapon attack in Syria's Idlib province on Damascus did not receive wide support at the conference in Brussels, Russian Deputy Foreign Minister Gennady Gatilov said, warning against the use of the incident to disrupt Syria peace talks.
"In what concerns this conference, of course, some tried to redirect it in order to focus attention on the incident that has occurred [in Idlib]. I must say that they failed to achieve that," Gatilov told Russian journalists, adding that "only some" tried to blame the Syrian government for the suspected use of chemical weapons.
The Russian deputy foreign minister warned against using such incidents as the one in Idlib to disrupt the Syrian peace talks.
"Anything can affect the talks. But we would not like for such incidents to be used by opponents of the negotiation process to disrupt it," Gatilov stressed.
The UN Security Council (UNSC) is held an emergency meeting on Wednesday to discuss the suspected chemical attack in Syria's province of Idlib. The United Kingdom, France and the United States introduced a draft resolution in the UNSC claiming that the alleged April 4 chemical attack in Idlib was carried out by the Syrian army. Russian Foreign Ministry spokeswoman Maria Zakharova said that Moscow categorically rejected the draft resolution.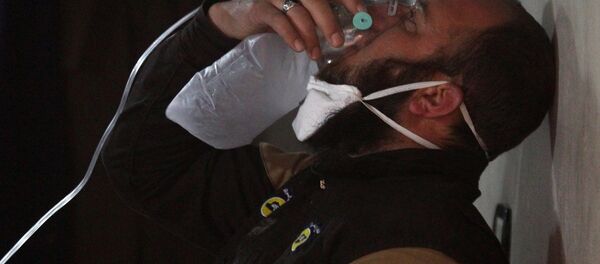 The Syrian National Coalition of Revolutionary and Opposition Forces and some other sources reported on Tuesday that some 80 people were killed and 200 injured in a chemical weapon attack in Idlib, blaming the Syrian army for the incident. The Syrian Armed Forces rejected the allegations.
Following an unprecedented chemical weapon attack in Syria's East Ghouta in 2013, when several hundred people were killed, Syria joined the Convention on the Prohibition of Chemical Weapons. This was the result of an agreement between Russia and the United States on the destruction of chemical weapons in the country under the control of the Organisation for the Prohibition of Chemical Weapons (OPCW) and stopped the US military intervention in Syria.
In January 2016, the OPCW announced that Syria's entire chemical weapons arsenal had been destroyed.
However, in June 2016, the US State Department released a report stating that Syria continued to use chemical substances against citizens, and could have retained a chemical weapons stockpile. UN High Representative for Disarmament Affairs Kim Won-soo has said that UN and OPCW experts still cannot confirm the complete destruction of chemical weapon production facilities in Syria.