US President Donald Trump has addressed the nation after authorising a targeted missile strike on an airbase in Syria. In his speech he said that he had ordered a missile strike on airbase in Syria from which as he claims the Idlib chemical attack was launched.
Trump claimed that Syrian President Bashar Assad had used deadly nerve agent to kill many people, calling "all civilized nations to end the slaughter and bloodshed in Syria".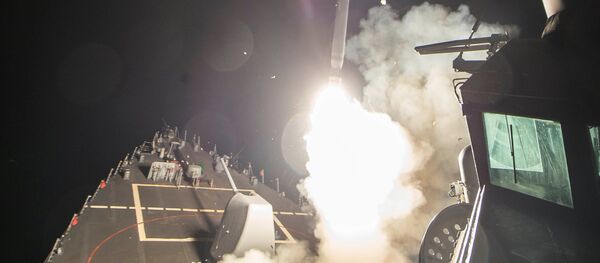 The missile strike on Syrian airfield was in "vital national security interest" of the United States, Trump said, adding that it is in interests of the country to prevent the spread and use of chemical weapons.
"Tonight I ordered [strikes on Syrian airfield]," Trump said.
"Tonight I call on all civilized nations to join us in seeking to end this slaughter," Trump said after ordering the strikes on the Syrian airfield, adding that "[Syrian President Bashar] Assad choked out the lives of men, women, children" and that the chemical attack was "very barbaric."
Earlier, Around 70 Tomahawk cruise missiles were launched on Thursday night at the military airfield in Ash Sha'irat 38 kilometers southeast of the city of Homs.
On Tuesday, an alleged chemical weapon attack in Syria's militant-held Idlib province claimed the lives of some 80 people and inflicted harm on an additional 200 civilians. The Syrian National Coalition of Revolutionary and Opposition Forces blamed the Syrian government troops for the attack, while Damascus has refuted these allegations.