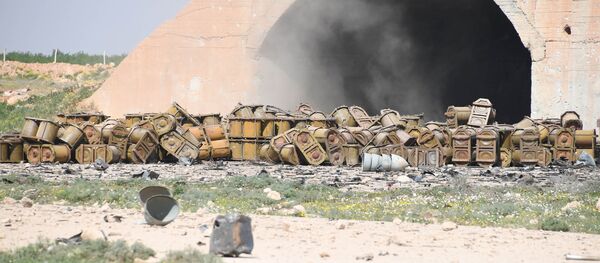 UNITED NATIONS (Sputnik) — The United States launched 59 Tomahawk cruise missiles at the Syrian military airfield in Ash Sha'irat near Homs late Thursday. US President Donald Trump said the attack was a response to the alleged chemical weapon use in Idlib on Tuesday, which Washington blames on Damascus.
"Mindful of the risk of escalation, I appeal for restraint to avoid any acts that could deepen the suffering of the Syrian people," Antonio Guterres said. "I call on the parties to urgently renew their commitment to making progress in the Geneva talks."
Earlier in the day, the Syrian Armed Forces General Staff said that the US missile strike on Syria's military airfield was a violation of international law. Homs Governor Talal Barazi said earlier on Friday that the airbase had suffered insignificant damage after the overnight attack with US cruise missiles. According to Barazi, the attack left five servicemen and two civilians dead.