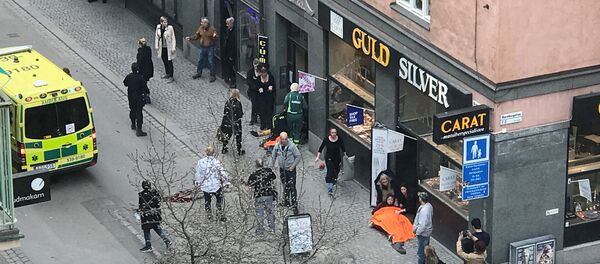 STOCKHOLM (Sputnik) — The first victim of the suspected terrorist attack in Sweden's capital of Stockholm was identified as an 11-year-old girl, local media reported Saturday.
A relative of the victim's mother confirmed the girl's identity to Expressen newspaper.
The girl went missing on Friday while returning from school. The relatives had been searching for her in person and through posts in social networks.
There are no reports about the identities of other victims yet.
On Friday afternoon, a stolen truck rammed into a crowd on a major pedestrian street in Sweden's capital, Stockholm. Following the attack, the local police arrested a 39-year-old Uzbek national living in Sweden, who had reportedly posted propaganda related to Daesh terrorist group on his Facebook page.
At least four people were killed and over a dozen were injured as a result of the Friday attack in Stockholm. So far, ten victims of the attack remain in hospital. Swedish Prime Minister Stefan Lofven said the attack was most likely an act of terrorism.