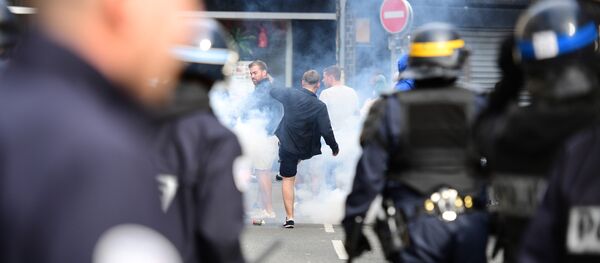 Fans of England's Leicester City football club chanting "Gibraltar is ours!" clashed with police in the Spanish capital ahead of Wednesday's Champions League game against Atletico Madrid.
Sputnik Mundo
talked with several Spanish football experts about the English hooligans' outrageous behavior.
"Each time English fans come to Spain we have problems. That's why the police are always out keeping an eye on them, but controlling such big crowds is almost a mission impossible," football analyst Vicente Corral said.
He added that the English footie fans "get drunk" and "start destroying furniture at bars."
"Still, they are not the only ones who cause trouble in Spain, because numerous 'ultras' from Central Europe often go berserk too," Corral told Sputnik Mundo.
Atletico Madrid aficionado Guillermo Rocafort described the English fans as "vandals."
"They should be banned from coming to European countries because their sole purpose is to run amock in the streets,"  Rocafort complained.
He added that "British policies and British media are turning their people into fanatics through Brexit and other issues, such as Gibraltar," and that the British authorities should pay for the damage caused by their citizens abroad. 
He also proposed boycotting or otherwise isolating British football clubs as punishment for their rowdy fans.
"The UK government turns a blind eye to the vandalist behavior of the British football hooligans. Britain is exporting violence  to Europe," Rocafort emphasized.
He said that mainstream media was downplaying the English fans' violent behavior in Madrid, adding that "there exist some clear-cut instructions to the media to badmouth Russia," even though  Russian fans don't happen to be the biggest threat to public order.
"The Anglo-Saxons are great experts when it comes to propaganda (…) They make peope believe the lies they are telling because they control the media," Rocafort continued.
He believes that the riots in Madrid were largely ignored by mainstream media because "they want to downplay real violence and sensationalize what doesn't really exist."
"[During the Euro-2017 in France] they blamed Russians, while it is Britain, which is the root of all this evil," Guillermo Rocafort emphasized.
His words rang particularly true after an UEFA  Europa League game between France's Lyon and Turkish Besiktas was delayed on Thursday as Besiktas fans started throwing flares at the Lyon supporters.
Moments later, a bunch of French hooligans armed with weapons stormed into the away end of the stadium scuffling with the visiting support.
Besiktas fans had earlier clashed with police and rival French supporters ahead of the game.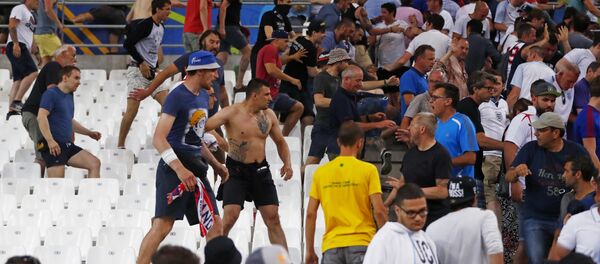 In what many saw as an attempt to shift the blame away from home turf, the
BBC documentary "Russia's Hooligan Army,"
aired in February, alleged, using made-up "facts,"  that Russian football fans plan to stir up trouble for English supporters  during the 2018 World Cup in Russia.
Well, judging from the most recent fan violence in Madrid, maybe the BBC should think about a follow-up to its February film and call it "England's Hooligan Army"?
© Photo : Vitaly Podvitski /
Tunnel Vision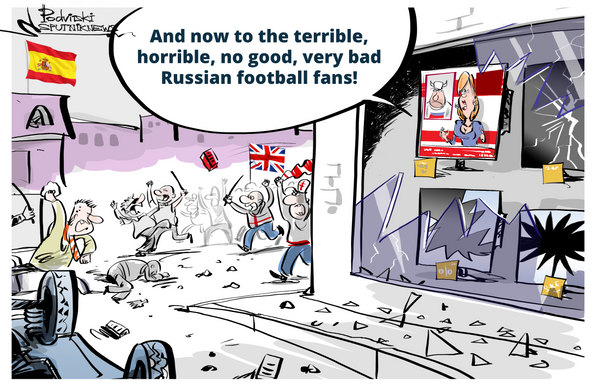 Tunnel Vision
© Photo : Vitaly Podvitski /
Never miss a story again — sign up to our Telegram channel and we'll keep you up to speed!