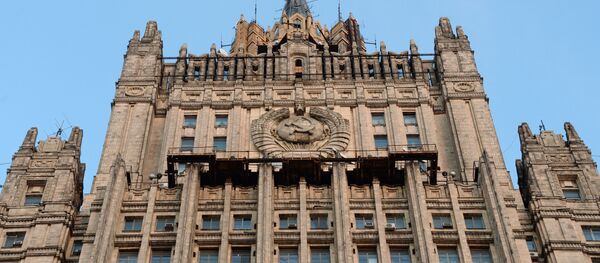 PYONGYANG (Sputnik) — North Korea could either carry out new ballistic missile launches or conduct nuclear tests shortly in commemoration of its public holiday, Russian Ambassador to North Korea Alexander Matsegora told Sputnik.
"If you carefully read the North Korean press, then there is no need to even guess. They themselves openly say that 'we will mark the upcoming glorious anniversary with significant events,' in the plural at that," Matsegora said.
North Korea celebrates the 105th anniversary of its founder Kim Il Sung's birth on April 15, Saturday.
"We can well imagine what events these will be. Some believe that the choice is only in two possible events: either new tests or a missile launch," Matsegora said.
The ambassador added that, the US aircraft carrier group dispatched toward North Korea is a provocation that did not contribute to de-escalation on the Korean Peninsula.
"Of course, annual US exercises this year are particularly provocative," Matsegora said. "Taking into account the fact that the US is bringing up an airborne strike group here, this does not work toward calming the situation."
The Russian envoy stressed that the US drills "are really working out a plan to seize Pyongyang, destroy the leadership of the country, approach the Russian and Chinese border, establish administrative control over the provinces of North Korea."
US officials announced on Saturday that an aircraft carrier strike group was sent to the Korean peninsula amid rising tensions. Last year's joint US-South Korean drills practiced taking out North Korea's leadership, military facilities and intercepting incoming North Korean planes in the event of war on the Korean peninsula.
The latest US carrier deployment has caused concern in North Korea with the country's military now directing its strike capabilities against the carrier group, Matsegora explained, adding that North Korea is thus warning that it is prepared to retaliate against any potential aggression.