Submarine-launched ballistic missiles (SLBMs) were displayed at the North Korean military parade for the first time ever, according to the Japan Times reporter Jesse Johnson, who alleged that three of the missiles that were rolled on trucks during the event were KN-15s or KN-11s.
​​Earlier in the day, it was reported that the parade on the occasion of the Day of the Sun national holiday could become the largest such event ever held and that Pyongyang was planning to showcase its latest missile technology at the Saturday parade.
US aircraft carrier Carl Vinson, surrounded by a fleet of US warships, was sent toward the Korean Peninsula in advance of this weekend's festivities in Pyongyang.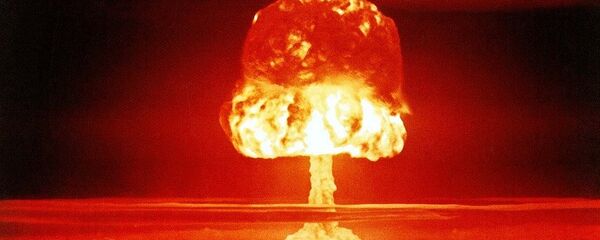 Friday media reports pointed to satellite observations suggesting that North Korea could be preparing for yet another nuclear test in the coming days. US media claimed that President Donald Trump may order a strike against North Korea in case Pyongyang decides to carry out another nuclear weapon test.
North Korea's vice foreign minister said the country's rumored next nuclear test would take place any time the leadership decides. The minister said there was a "vicious cycle" happening on the Korean Peninsula, and that Pyongyang wouldn't countenance a preemptive strike from Washington.
Earlier on Thursday, Trump told reporters at the White House that the North Korean "problem" "will be taken care of."
In response, the general staff of the North Korean armed forces threatened to launch a strike against US military bases in Japan and South Korea, as well as the presidential residence in Seoul in case of US aggression.