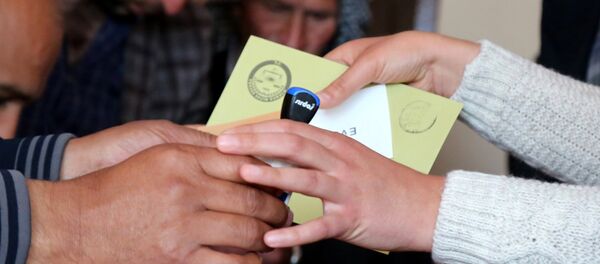 ANKARA (Sputnik) — About 55.3 million of voters are expected to cast their votes at 167,140 polling stations, with 461 additional ballot stations operating in prisons. Turkish citizens living abroad have voted on the constitutional amendments before the voting day.
The voting started at 7 a.m. local time (04:00 GMT) in the eastern Turkey and at 8 a.m. in the rest part of the country. Security at the polling stations is maintained by 380,000 policemen. No serious violations have been registered so far, except for an incident in the south-eastern province of Diyarbakir, where two people were killed in a shooting near a polling station.
President Recep Tayyip Erdogan voted in the morning in Istanbul, Prime Minister Binali Yildirim in Izmir, while Foreign Minister Mevlut Cavusoglu cast his vote in his home city of Antalya. Leaders of the main opposition parties, Kemal Kilicdaroglu of the Republican People's Party (CHP) and Devlet Bahceli of Nationalist Movement Party (MHP), voted in Ankara.
The press service of pro-Kurdish Turkish People's Democratic Party (HDP) told Sputnik that its jailed leaders Selahattin Demirtas and Figen Yuksekdag were also expected to take part in the voting.
On January 21, the Turkish parliament approved constitutional amendments that would strengthen the presidential powers over the legislature and the judiciary. If approved by the referendum, the president will also be able to remain the head of the political party he represents, which is not allowed by the current legislation. The decision was criticized by opposition parties as a power grab attempt by the president.