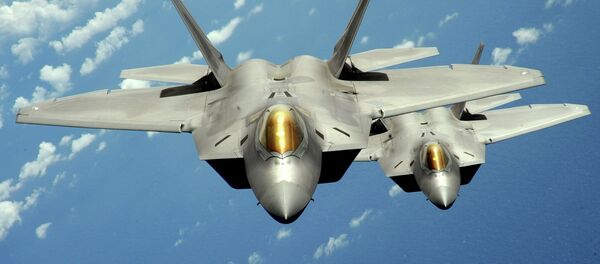 MOSCOW (Sputnik) – The Russian Defense Ministry confirmed on Wednesday that two Russian Tu-95MS bombers were escorted by US F-22 fighters near Alaska.
On Tuesday, the Fox News broadcaster reported that the US fighters had intercepted the Russian bombers off coast of Alaska.
"Over the international waters near Alaska Tu-95MS jets were escorted by F-22 fighters of the US Air Force during 27 minutes," the Russian Defense Ministry said in a statement.
The ministry pointed out that Russian jets regularly carry out patrol flights over the neutral waters of the Arctic region, Atlantic Ocean, Black Sea and Pacific Ocean.
"All flights of the Aerospace Force were carried out and are carried out in strict accordance with the international rules of using the air space over the neutral waters without violation of borders of other states," the statement added.
The US military also confirmed the incident.