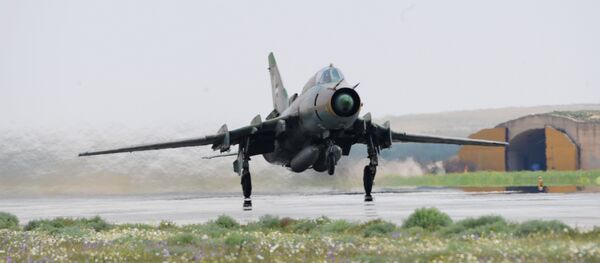 MOSCOW (Sputnik)
–
An 82 percent majority of Russian nationals consider the recent US missile attack on the Syrian military airfield in Ash Sha'irat to be a provocation aimed at destabilizing the situation in the war-torn country, a new survey conducted by the Russian Public Opinion Research Center (VTsIOM) revealed on Thursday.
"The majority of Russians, 82 percent, tend to consider the April 7 US missile strike on the Syrian military base to be a provocation aimed at destabilization of the situation, and over 70 percent [of respondents] from all social and demographic groups agree with that. Only 6 percent of our fellow citizens call Washington's actions a response to the use of chemical weapons by [Syrian President] Bashar Assad's troops," the poll said.
According to the poll, 12 percent of respondents were unable to describe the motives behind the US strike.
The survey was carried out on April 11-12 and involved 1,200 respondents.
On April 6, the United States launched 59 Tomahawk cruise missiles at the military airfield in Ash Sha'irat. The US President Donald Trump said the attack was a response to the alleged chemical weapon use in Syria's Idlib province on April 4, which resulted in the death of over 80 people. The strikes were unanimously supported by NATO member states.
Syrian Foreign Minister Walid Muallem denied the government's involvement in the Idlib incident, saying it had never and will never use chemical weapons on either civilians or terrorists operating in the country.
On April 5, the Russian Defense Ministry said that the airstrike near Khan Shaykhun by the Syrian air force hit a terrorist warehouse that stored chemical weapons lined up for delivery to Iraq, and called on the UN Security Council to launch a proper investigation into the incident.
On Wednesday, Russian Foreign Minister Sergey Lavrov called the chemical weapons incident in the Syrian province of Idlib a provocation as well as an attempt to undermine the ceasefire in the country.
Never miss a story again — sign up to our Telegram channel and we'll keep you up to speed!