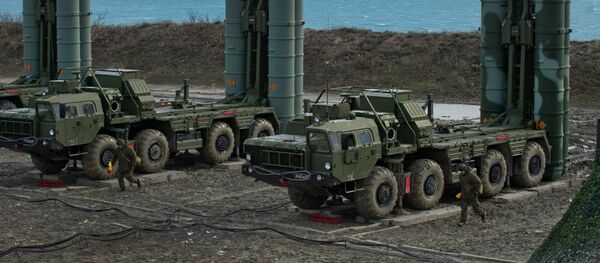 ANKARA (Sputnik) — As Ankara enters the final stage of the talks with Russia on the acquisition of the S-400 air defense systems, NATO members should be mindful and understanding of the nearly completed process, Turkish Defense Minister Fikri Isik said on Friday.
"The work with Russia on S-400 has come to the final point. NATO must be understanding about it. It is clear that Turkey needs an air defense system. But NATO member states did not provide us with an economically effective offer and have no desire to share technologies with us. We understand that we will not be able to integrate the S-400 into the NATO air defense system, and we do not demand that from the Alliance," Isik told reporters.
In March, Russian Presidential Aide for Military-Technical Cooperation Vladimir Kozhin said that Russia did not see Ankara's potential NATO membership as an obstacle for delivering the S-400 systems to Turkey.
The S-400 Triumph is Russia's next-generation mobile surface-to-air missile system carrying three different types of missiles capable of destroying aerial targets at a short-to-extremely-long range. It integrates a multifunctional radar, autonomous detection and targeting systems, anti-aircraft missile systems, launchers, and a command and control center.