Speaking at the launch of her Best for Britain campaign, she said she was overwhelmed by the support the movement's crowdfunding initiative had received — 10,000 individuals had donated around US$385,000 (£300,000) as of April 26, reflecting she believes a strong grassroots appetite for a meaningful opposition to the Conservative government's Brexit strategy.
​Miller will not be standing herself — the money will be given directly to 100 as-yet unidentified pro-European candidates believed to have a chance of defeating politicians supporting Theresa May's hard Brexit strategy. Funds will be allocated to parliamentary hopefuls chosen using data and polling that considers a constituency's referendum voting patterns and 2015 election result.
Gina Miller: Thanks to the generous donations we've received we will work tirelessly to support candidates who want what's best for Britain pic.twitter.com/zLSAon5ttE

— Nadia Gilani (@nadiagilani) April 26, 2017
​"This is the most important election for a generation. It's crucial people feel inspired to register and vote. It is especially important for young people to vote as they will be living with the consequences of the decisions taken in the next parliament for their entire lives. The next government has no mandate to destroy our rights and our relationship with Europe. We need to prevent MPs and the people being forced into an extreme Brexit that is not in Britain's best interests," Miller said.
Miller, who denied she is a divisive figure whose intervention could boomerang and in fact produce a hard Brexit, argued the public did not vote for a hard Brexit in the 2016 referendum — but Theresa May was not presenting a choice to the public other than to swing behind her vision in the election. Moreover, she rejected the notion Brexit was a binary choice.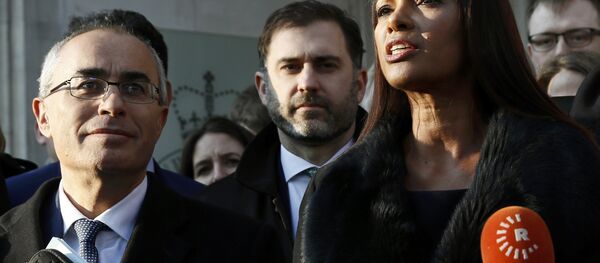 26 January 2017, 17:06 GMT
The initiative could well provide a boost for the Liberal Democrats, which has firmly positioned itself as the party of remaining in the EU. The party was reduced to a parliamentary rump in 2015 following five years of coalition government with the Conservatives.
Miller also revealed she was still attracting abuse, but said she chose to "embrace it" rather than "walk away." In an exclusive interview with Sputnik in January, she documented how the mainstream media responded to her Supreme Court campaign by mutating into "political propaganda rags."
Miller's initiative launches two days after Open Britain, another group campaigning against a Hard Brexit, unveiled its campaign to unseat prominent Brexit-supporting MPs such as Iain Duncan Smith, Theresa Villiers and Kate Hoey. The group has drawn up an "attack list" of 20 seats, held mostly by Conservative MPs where constituents voted to stay in the EU, but their representatives are Brexit supporters.
​​Lord Peter Mandelson, Open Britain board member, said it is counterproductive for the Prime Minister to enter Brexit negotiations with a rigid set of red lines, and that millions of jobs were at risk in the event of an acrimonious departure from the EU.