The USS Carl Vinson is the flagship vessel of the US Navy's Carrier Strike Group One. As the threat of a nuclear-equipped Pyongyang looms, the strike group "sits in the Philippine Sea just east of Okinawa," US Adm. Harry Harris told the House Armed Services Committee on Wednesday.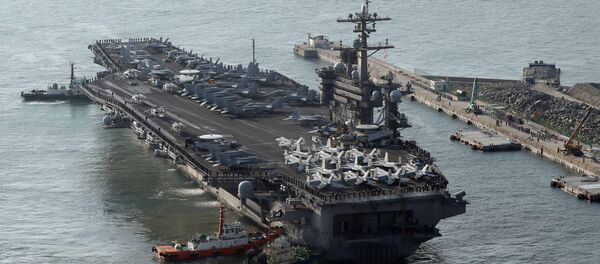 The Vinson, two destroyers and a guided missile cruiser are standing by "in strike range and power projection range of North Korea if called upon to do that," Harris said. 
"In the next few days I expect it will continue to move north," he added.
Two weeks ago, Defense Secretary James Mattis said the Vinson was "on her way up there because that's where we feel it's prudent to have her at this time." And on April 11, White House Press Secretary Sean Spicer insisted that "a carrier group steaming into an area like that, the forward presence that is clearly … a huge deterrent," adding "it serves multiple capabilities." Using air support on North Korea from jets on the Vinson, when the ship was nowhere near its stated destination, was clearly not one of those capabilities. 
In an April 12 interview with Fox News, US President Donald Trump said a flotilla of warships was headed to the Korean Peninsula to monitor the situation there. This turned out to be less than fully accurate, as was his statement in the same interview that the US had fired 59 missiles at Iraq. The bombardment was actually directed at Syria's Sha'irat airbase. 
As it turned out, the ship was not headed toward the Korean Peninsula – it was spotted much closer to the Indian Ocean. By April 15 the US Navy published a photograph of the very same USS Carl Vinson about 3,500 miles away in the Sunda Strait, a maritime access point between Malaysia and Indonesia.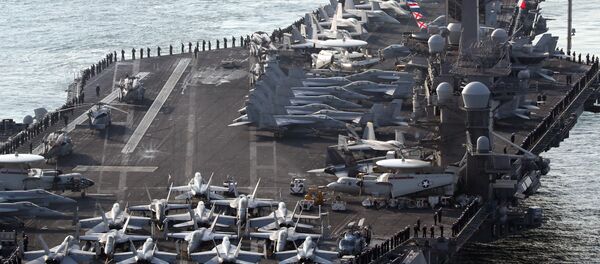 On April 19, a Sputnik report revealed the supercarrier had not reached the Sea of Japan because the White House and the Pentagon failed to communicate efficiently. Specifically, the Trump administration "did not follow-up with commanders responsible for the movements of the carrier."
On Wednesday, Adm. Harris took the fall for all the mishaps. "I'll take the hit for it," the commander of the US Pacific Command said. "Where I failed was to communicate that adequately to the press and the media, so that's all on me."