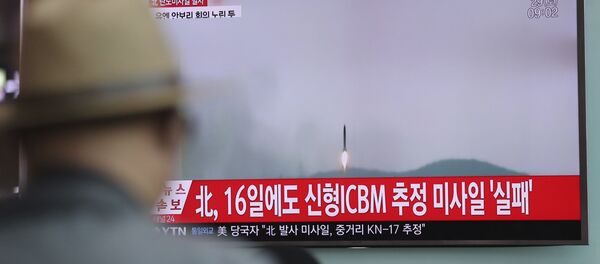 TOKYO (Sputnik) — Earlier in the day, Pyongyang launched a suspected intermediate-range ballistic missile from a site north of the country's capital. Japan, South Korea and the United States said the test appeared to have failed as the missile broke up within North Korean territory.
"In light of the current situation, in which North Korea repeats provocative acts and displays no sincere will or specific action toward denuclearization, we cannot immediately restart the six-party talks at this time," Abe said as quoted by the Kyodo news agency.
He added that the recent launch of a ballistic missile by North Korea was "intolerable" and "posed a significant threat" to the security of Japan.
North Korea declared itself a nuclear power in 2005. The United States, Japan and South Korea, as well as Russia and China, took part in talks with North Korea on the denuclearization of the Korean peninsula between 2003 and 2009, when Pyongyang withdrew from the talks.
Tensions around North Korea's activities with both nuclear and non-nuclear weapons have drastically escalated in recent months, after Pyongyang conducted a number of nuclear tests and ballistic missile launches in violation of the UN Security Council's resolutions.