NEW DELHI (Sputnik) — Sputnik had reported earlier that India had got a positive response from member countries of Malacca Straits Patrol (MSP) Framework and will join the group. The Malacca Straits link the Indian Ocean with the South China Sea and the Pacific Ocean. Indonesia, Malaysia, Singapore and Thailand launched MSP in 2006 to ensure the security of the Straits of Malacca and Singapore.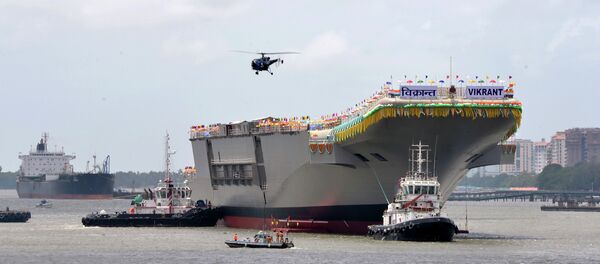 "Apart from securing the trade sea route, the Coordinated Patrol (CORPAT) also serves to enhance mutual understanding and interoperability between the two navies. The CORPAT thus reflects the shared concerns between the two countries for a peaceful Indian Ocean for the benefit of the international community," an Indian Navy statement said.
Once India is authorized to patrol Malacca, real-time data of commercial ships and naval platforms will be available. New Delhi can monitor the movement of Chinese Navy in the Indian Ocean as well because India's Andaman Nicobar Islands are some 100 km from the western edge of the Malacca Straits.
The Indonesian Navy and the Indian Navy have been carrying out coordinated patrolling twice a year since 2002 near the International Maritime Boundary Line to keep this part of the Indian Ocean region safe, and secure for commercial shipping and international trade.