FAIRBANKS (Sputnik) — The University of Alaska Fairbanks (UAF) is seeking to set up cooperation with Russia on a reindeer research program, the manager of UAF's Reindeer Research Program told Sputnik ahead of the 10th Arctic Council ministerial meeting slated for Thursday.
"There is a tremendous knowledge based there in Russia that would be helpful to all of us in all of the countries to be able to tap into, because there are hundreds of years of research. We have a lot to learn," Greg Finstad said. "We haven't got communication set up with Russia as we have with other countries but we need to."
The main issue is language, as a lot of research by Russia is not published in English, Finstad explained.
"It's there but we just can access it," he said. "You don't want to repeat research that's already been done. I am sure what we are doing here has already been done in Russia, but we have no access to research so we are forced to repeat it."
Finstad noted that their program was aimed at promoting and growing the reindeer industry in Alaska for food production.
"We had a reindeer industry in Alaska in 1920 — 1930s, and we had a large number of reindeer, but it collapsed with the depression and the WWII, and we are just trying to build it back," he added. "We know we can be successful because there was a successful reindeer industry in the past, and we are just trying to be more creative. We have to be more self-sufficient in food production."
Alaska is very dependable on outside food sources, and the US state imports most of the food, the program manager pointed out.
"We are very concerned about that. Any little hiccup in food transportation, distribution, and the shelves in our grocery stores go empty," he said. "We really want to develop our own local food production system. And conventional livestock don't really work in Alaska as the climate is too severe. But the reindeer work well, they are adapted to this northern climate."
Reindeer are domestic livestock, Finstad noted, adding that within the program they use them in a number of various management or production scenarios.
"We can have them out on a ton truck, and they do quite well, and we can put them behind fence with pasture or behind fence and just feed them, and they do quite well. So we are using all those production scenarios in different parts of the state whichever production scenario works for the particular area to raise reindeer in the state of Alaska," he said.
Finstad added that they also grow most of the ingredients that go into our reindeer feed.
"Here we trying to develop a system to raise reindeer behind fence and feed them, but we can't afford to bring food from the rest of the country up here to Alaska to feed them," he said. "So we try to use what we can grow in Alaska and develop a reindeer ratio out of what we can grow. We grow most of the ingredients that go into our reindeer feed. We mix them up on different combinations and see how well reindeer do."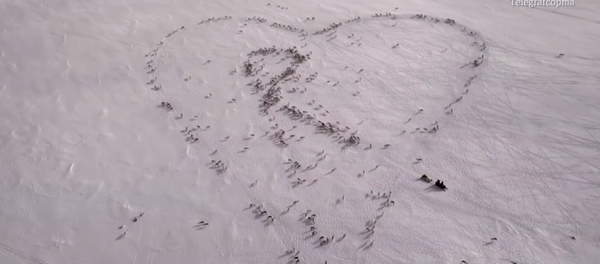 There are currently about 70 reindeer on the research herd, Finstad indicated.
The 10th ministerial gathering will review the work completed under the two-year US chairmanship, and address regional problems, including socioeconomic and environmental issues in the Arctic region.
The Arctic Council is an intergovernmental forum comprised of the eight Arctic nations — the United States, Canada, Russia, Sweden, Norway, Iceland, Finland, and Denmark. Six international organizations representing Arctic Indigenous Peoples have permanent participant status. There are currently twelve non-Arctic observer nations.