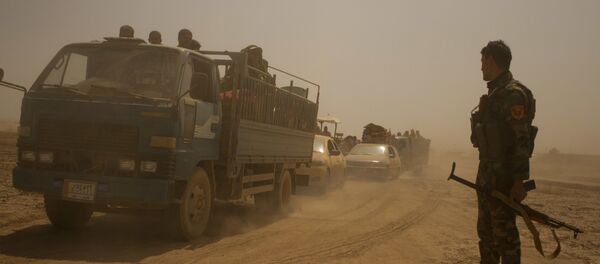 As Iraqi forces, backed by the US military, have pushed into those final areas of Mosul still occupied by Daesh, the brutal seven-month urban battle for the city is seen to be nearing its close.
Currently, the front line is being held by Iraq's Hashd Al Shaabi forces, also known as People's Mobilization Forces, and runs alongside the main road from Baghdad to Mosul — a route which is a lifeline for Iraqi troops who are fighting in north Mosul.
One commander, fighting with the Iraqi Army said in a recent interview that they have two enemies and their position is under daily threat of attack.
"We are between two enemies here, with Daesh, (IS) on either side, and they attack our positions every single day," Saad Swar, commander of the 99 Brigade, told Middle-East Eye.
"They want to control this road because it forms a bridge that they can use to escape from their territory in Iraq to the Syria borders. We are here to prevent Daesh escaping to Syria."
Soldiers are constantly taking up positions and scanning the landscape to ensure Daesh are kept at bay. 
Daesh fighters attacking the road from Makhoul Mountains are coming from Hawija — the second largest Iraqi town that the group has full control of.
But despite them still holding on to Hawija, times are hard for the terror group, which is increasingly getting desperate. The Iraqi Army is preparing for the countries next major offensive, which will involve regaining Hawija.
"Right now our forces are starting to surround Hawija, and the enemy has become desperate to escape," said Swar.
They believe that the daily attacks on their positions have two aims; the first is so that an escape route can be reopened, and the second is to regain control of the stretch of road that leads to Mosul.
Mohunnad Najim Al-Eqabi, media head of Hashd Al-Shaabi, said the road is a crucial supply line for Iraqi forces battling Daesh in the ongoing Mosul offensive. If this logistics route is severed, then the whole operation to the north will break down.
One former oil engineer turned soldier said that every night Daesh attack them and every morning they attempt to push them back.
"They are desperate to get this road, but our defense is strong. We have killed hundreds of Daesh here over the last month but still they just keep on coming," said former oil engineer Riad Konia Abu Salem.
According to sources, due to the ferocious attacks this only goes to show how desperate the Daesh militants have now become. And as time goes on and the group begins to retreat, Iraqis are looking towards the future.
Sources have said it will take months, if not years, to clear the unexploded ordnance and IEDs. The clean-up mission has already started with over 3,000 IEDs and mines being deactivated and removed.