On Saturday, police in northeast Estonia's Ida-Viru County told local media that a NATO APC participating in the Spring Storm 2017 drills had crashed into a ditch, leaving two soldiers injured. The accident occurred Friday evening. The two men, including the 35-year-old driver and a 33-year-old soldier, were taken to a local hospital in the town of Rakvere.
Only hours earlier, a military jeep crashed into a civilian car as it traveled in reverse along a dirt road, also in Ida-Viru County. Photos published by Estonian media show that the military 4x4's camouflage was so thick that the driver probably couldn't see where he was going. No one was injured in the incident, but the civilian vehicle, an old Volkswagen Golf, was totaled.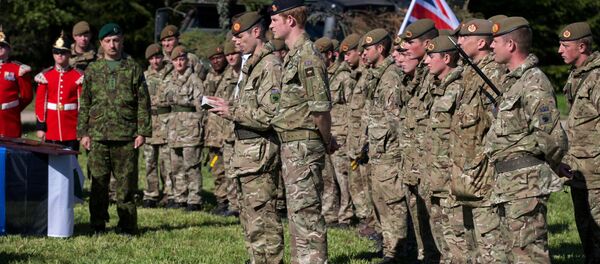 Two days before that, on Wednesday, three NATO servicemen were injured, one seriously, after the military vehicle they were in
caught fire
after grazing an overhead power line with its antenna. That incident occurred in the village of Aidu, northeast Estonia. 
On Tuesday, in a separate incident not related to Spring Storm drills, a military truck near Tallinn ran over a reservist, who was taken to hospital.
NATO's Spring Storm exercises, involving nearly 9,000 troops, kicked off on May 8, and are set to wrap up next Friday. Along with Estonian troops, about 2,300 foreign troops from over a dozen NATO countries are taking part. This includes over 800 troops from the UK, about 300 troops from France, and soldiers from Canada, Finland, Georgia, Latvia, Lithuania, the Netherlands, Poland, Spain, Ukraine and the US.