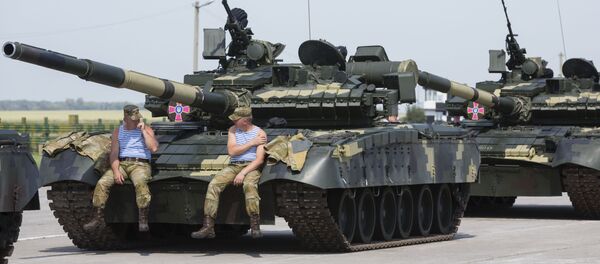 During her meeting with Ukrainian President Petro Poroshenko in Berlin on Saturday, German Chancellor Angela Merkel signaled her readiness to initiate new talks on the stagnant peace process in eastern Ukraine's Donbass region, Germany's
DPA news agency
reported.
DPA quoted Merkel as saying that she plans to bring together Poroshenko, Russian President Vladimir Putin and their French counterpart Emmanuel Macron, so that the four heads of state may discuss the continuing violence in Donbass.
These four countries were signatories to the Minsk peace agreements which were brokered in 2015 to help end fighting between Ukrainian government troops and supporters of Donbass independence.
Armed clashes, however, show no sign of abating, with the warring sides accusing each other of violating the Minsk agreements.
Speaking at a joint press conference, Merkel, for her part, expressed concerned about the fact that "at the moment, there is no armistice [in Donbass], and the Minsk agreements are not fully implemented."
RT recalled in this regard that shortly before the Berlin talks, Poroshenko did not think twice before sending "another batch of beautiful T-80 tanks to the Ukrainian Airmobile Forces on the front line" in Donbass, despite this being a violation of the February 2015 Minsk II ceasefire agreement.
According to Rostislav Ishchenko, head of the Ukrainian Center for Systemic Analysis and Forecasting, Kiev's actions, which violated the terms of the Minsk agreements, are fully in line with the new Ukrainian policy.
"Poroshenko has been doing so for three years. Saying one thing and doing another one is something that is absolutely expected from Ukrainian authorities," Ishchenko told RT.

Alexey Mukhin, director-general of the Moscow-based Center for Political Information, in turn told RT that the German Chancellor is alarmed about Poroshenko's recent ban on the operation of Russian Internet companies in Ukraine rather than the tanks sent to Donbass.
Earlier in May, Poroshenko ordered his country's internet service providers to bar access to Russian sites including VK, the most popular social network in the country, with over 27 million registered users in Ukraine alone.
"Merkel does not want to inflame the situation between Russia and Ukraine and will try to 'let off steam.' She summoned the Ukrainian President to demand explanations for a lot of harsh actions that he recently took," Mukhin said.
He also pointed to the weakening of attention toward Ukraine on the part of the United States, which he said added to Merkel's decision to sit down with Poroshenko.
"Apparently, Poroshenko and his team are pleased about the fact that Washington is failing to duly keep an eye on them, which is why Ukraine is now being capricious and playing the fool. In this vein, Merkel wants to act as a nanny," Mukhin added.
In an interview with RT, Vladislav Belov, deputy director of the Institute of Europe of the Russian Academy of Sciences, for his part, said that after meeting President Putin in early May, Merkel prepared relevant proposals for Ukrainian authorities.
"I suppose that Merkel has a certain proposal for Ukraine which she discussed with the Russian President," Belov said, adding that in any case, Poroshenko will have to adhere to the Minsk agreements.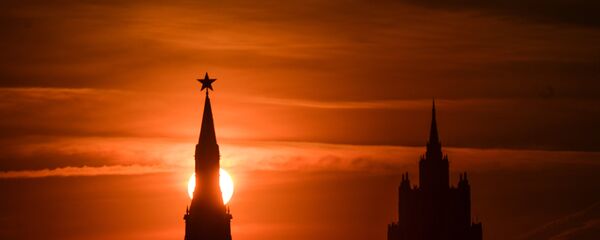 He also drew attention to the fact that Poroshenko actually puts off his European partners by turning a blind eye to the activity of militant ultra-nationalists in Ukraine.
"I think that Merkel will demand that Poroshenko and his entourage should be in line with the image of European politicians they want to stick to in words, but not in deeds. And most likely, Merkel will also demand that Poroshenko shouldn't discredit the EU by behaving that way," Mukhin said.
He added that Merkel is greatly interested in the early stabilization of the situation in eastern Ukraine because she wants to improve her political image ahead of the parliamentary elections in Germany on September 24.
"Merkel has long understood that she got into an ugly story, and that the situation in eastern Ukraine will never be stable. But she needs to pretend that everything is going according to schedule. That's why she says from time to time that Poroshenko needs to implement the Minsk agreements, knowing beforehand that they will never be fulfilled," Mukhin said.
Vladislav Belov, in turn said that Merkel does not have any special leverage she could use to pressure Ukraine aside from "political influence".
"Germany is part of the EU, with Merkel making her statements on behalf of this organization. They have no special instruments for pressuring Kiev, and Ukraine will not be subject to sanctions if it does not comply with the Minsk agreements," he said.
According to Belov, "no one is going to break agreements on the abolition of the visa-free regime, which recently entered into force with relation to Ukraine."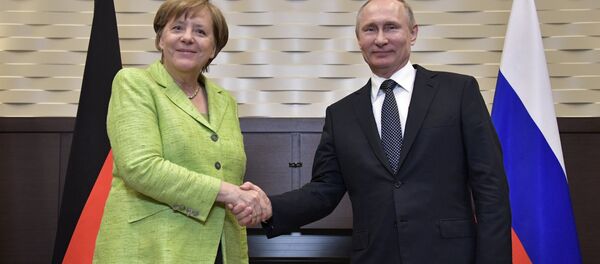 He also remained downbeat about a peaceful settlement in Donbass in the near future.
"We will not see the solution to this conflict this year. The tanks that Poroshenko has just sent to Donbass are clearly not a sign of his adhering to the Minsk agreements. Merkel, of course, wants to freeze the conflict so as to save human lives,  but the Ukrainian leader does everything he can to deepen it, "Belov said.
Never miss a story again — sign up to our Telegram channel and we'll keep you up to speed!