ANKARA (Sputnik) — On Tuesday, Turkey confirmed media reports it had blocked the participation of Austria, which is non-NATO member, in several programs of the military alliance.
"I will answer very briefly: the blocker will be blocked," Erdogan said in response to a journalist's question about Ankara's measures in NATO against Vienna.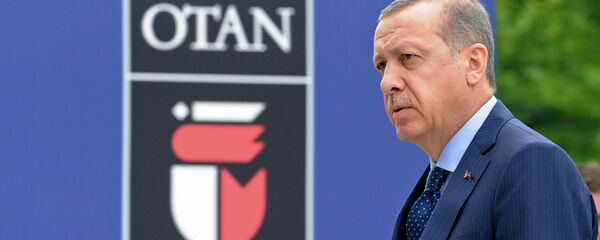 Turkey signed an association agreement with the then-European Community in 1963, and submitted a membership application in 1987. Talks about Turkey's membership of the European Union began in 2005, however, they have been repeatedly suspended due to various obstacles.
A number of Austrian politicians, including Foreign Minister Sebastian Kurz and President Alexander Van der Bellen, have made a number of statements criticizing such issues as a crackdown on alleged supporters of the thwarted 2016 coup and the referendum on constitutional amendments in Turkey that broadens presidential powers, saying that they move Ankara away from EU values and accession to the bloc.