Speaking to Sputnik, a military source confirmed Saturday that 120 Daesh militants traveling in 39 pickup trucks armed with large-caliber machineguns were eliminated May 25 as they attempted to flee Raqqa for Palmyra, the central Syrian liberated by government forces earlier this year.
The source added that the Russian military contingent in Syria has received several intelligence reports that Daesh had made a deal with units of the Kurdish-led Syrian Democratic Forces (SDF) operating outside Raqqa, under which militants would be allowed to leave the city unimpeded. 
"Upon receiving this information, the command of the Russian contingent in Syria has taken measures to prevent the exodus of Daesh terrorists in the southern direction," the source said.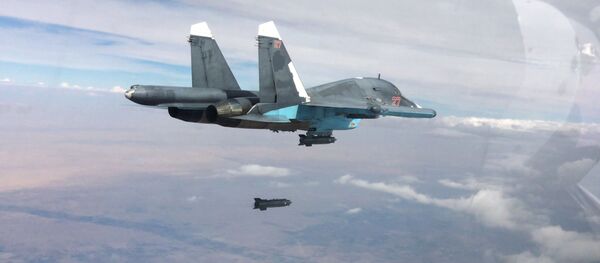 The military source added that Russian intelligence drones have set up a perimeter around the city to monitor possible terrorist escape routes, with combat aircraft and special forces units engaged in preventing militants' escape. 
"Any attempts by Daesh militants to move toward Palmyra and to build up their forces there will be squashed," the source said.
Speaking to Zvezda, the official television channel of the Russian Defense Ministry, Semyon Bagdasarov, a highly respected Russian military and political analyst specializing in Mideast affairs, warned that Daesh militants will be likely to make attempts to break out of the city using humanitarian corridors opened by the Kurdish forces.
"I understand that humanitarian corridors have been opened for Raqqa's [civilian] population to exit the city. It's another thing completely that Daesh militants may well take advantage of these corridors," Bagdasarov said.
"Where they go — in the direction of Palmyra or somewhere else – this is another question," the observer added.
Jihadist militants operating in Syria and Iraq have been known for their use of the cowardly tactic of disguising themselves as civilians (sometimes even as women) to flee the combat zone once the military balance turns against them. Amid the Russian campaign of airstrikes in Syria, which began in 2015, reports emerged that Daesh militants were shaving their beards en masse and fleeing across the Syrian border to Turkey as 'refugees'. Now, it seems that a similar situation may repeat itself in Raqqa.
Video published by the US-backed Syrian Democratic Forces, allegedly showing captured Daesh militants disguised in women's clothing.
Asked to comment on the rumored plans of a US-led coalition assault on the city, Bagdasarov noted that such plans have existed since at least last month, but have been held up by diplomatic considerations.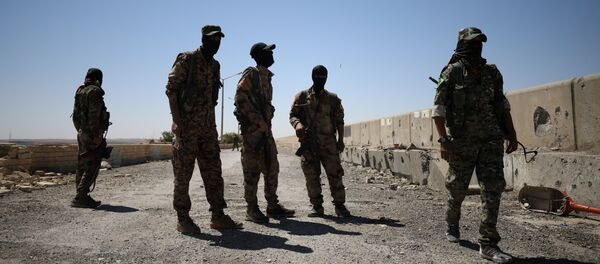 "It was assumed that the storming [of Raqqa] would start in early April. After that, the Americans moved it to a later date, due to a number of issues, including diplomatic ones related to Turkey," the analyst said. 
Turkey had voiced its opposition to Washington's plan to arm Kurdish fighters for an assault on Raqqa; Ankara considers Syrian Kurdish groups known as the Kurdish Peoples' Protection Units (YPG), who form the backbone of the SDF, to be terrorists.
Russia has also criticized the US plans, but for a different reason. Earlier this month, Russian Foreign Ministry spokeswoman Maria Zakharova said that all weapons deliveries to Syria must be directed to the country's legitimate, internationally recognized government.
© REUTERS / Rodi Said
Internally displaced people who fled Raqqa city ride a tricycle with their belongings as they leave a camp in Ain Issa, Raqqa Governorate, Syria May 4, 2017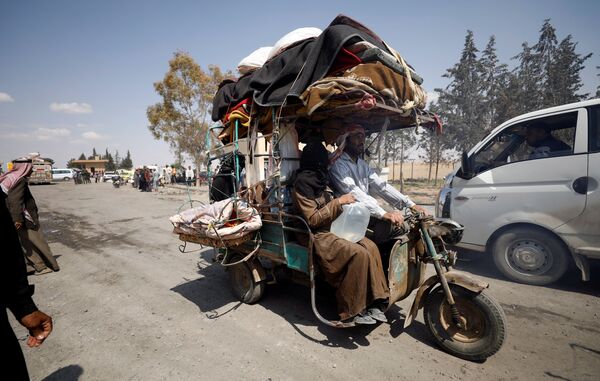 Internally displaced people who fled Raqqa city ride a tricycle with their belongings as they leave a camp in Ain Issa, Raqqa Governorate, Syria May 4, 2017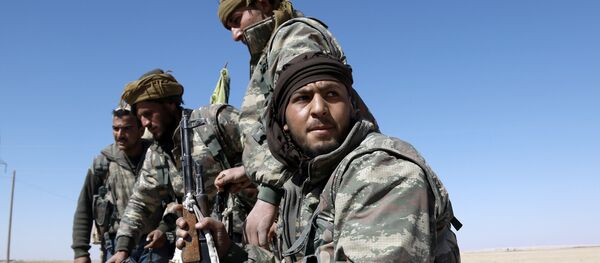 Now, Bagdasarov noted, "after the US [goes forward] with the delivery of weapons to the Kurds…the question of the storm of Raqqa, preparations for which are underway, [will be decided]."
Asked to comment on Moscow's influence on the situation in the self-proclaimed Daesh capital, Bagdasarov said that defensive positions outside the city aside, Russia is not participating in the campaign to storm the city.
"We have no influence on the storming of Raqqa, and are not participating in it. If some number of Daesh militants escape the city and find themselves in the combat zone where our coalition is operating, it will be necessary to fight them." As for the city itself, the observer emphasized that "our influence in the area is small."