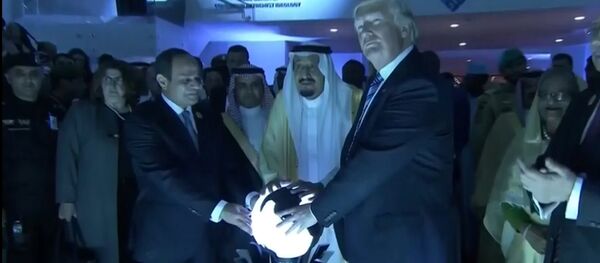 Sunday saw the end of Donald Trump's first foreign tour as US President.
Between May 20 and May 27, he paid visit to a number of Middle Eastern countries and attended NATO and G7 summits, where he showed himself to be a skillful negotiator, according to Russian expert Andrey Sidorov.
During the first part of the trip, Trump visited Saudi Arabia, where he met King Salman bin Abdul Aziz Al Saud and was also in attendance at a summit of several dozen Muslim countries.
He signed an agreement on military supplies that could lead to Riyadh buying 350 billion dollars in American weapons.
"The whole visit means that US policy is simply reverting to that which prevailed under [President George] H. W. Bush: US-KSA [Kingdom of Saudi Arabia] solidarity, no questions asked and lots of orders for the US defense sector," retired United Kingdom diplomat Jonathan Clarke told Sputnik.
Leaving Saudi Arabia, Trump went to Israel and Palestine to meet Israeli Prime Minister Binyamin Netanyahu and head of the Palestinian Autonomy Mahmoud Abbas.
"On my first trip overseas as president, I have come to this sacred and ancient land to reaffirm the unbreakable bond between the United States and the State of Israel," Trump said on arrival in Tel Aviv.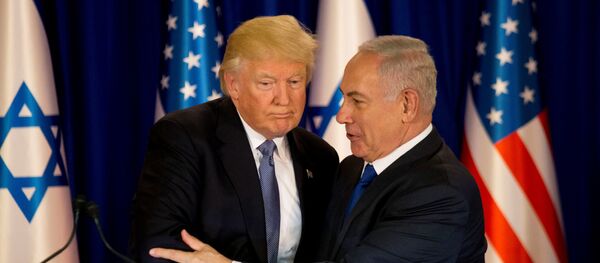 During the visit, he called on both sides of the Middle Eastern conflict to try to reach a consensus which would contribute to a peace in the region.
"Our deep and lasting friendship will only deepen and become stronger in the coming days," Trump said after his talks with Netanyahu.
Trump's "Tour of Great Religions" wrapped up in the Vatican where he met Pope Francis to discuss Syria, Libya, the fight against terrorism and the US' contribution to containing hunger, the White House's press service said.
The US President promised to order the allocation of more than 300 million dollars for resolving crises in Yemen, Sudan, Somalia and Nigeria, the press service added.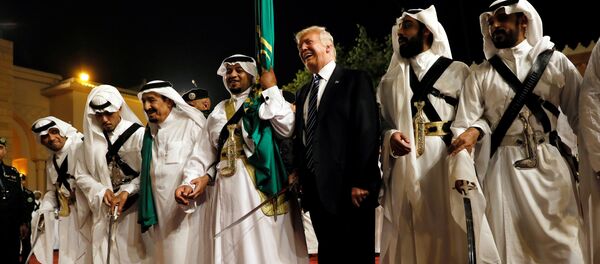 The European part of Trump's tour continued in Brussels, where he attended a brief NATO summit.
On the sidelines of the Brussels gathering, Trump met with the Belgian Prime Minister Charles Michel, as well as European Council President Donald Tusk and European Commission President Jean-Claude Juncker.
Also in Brussels, Trump sat down with Emmanuel Macron, in the first such talks since Macron was elected French President earlier in May. 
"Both leaders confirmed that they will continue to support and build up the already strong union between the US and France," the White House's press service reported.
Speaking at the NATO summit, Trump called on 23 NATO members to remain committed to their financial obligations to the organization.
The US President touted the G7 summit in Sicily as being a "tremendously productive meeting" to help strengthen America's bonds.  
Trump added that a "truly historic week" concluded Saturday in terms of the United States bolstering relations with some of his country's closest allies.
Notably, Russia-related topics were addressed both at the NATO and G7 summits.
In his address to NATO members, Trump called "a threat from Russia" one of the challenges to be resolved by the alliance.
"In the future, NATO should focus on terrorism and migration, as well as on threats from Russia and from the East and the South," Trump said.
Speaking to Sputnik, Russian political analyst Andrey Sidorov remained cautiously optimistic about the results of Trump's first foreign tour.
"This trip was very successful, both from the external and internal policy points of view. Trump, as he earlier promised, showed himself to be an experienced negotiator who knows how to bargain," Sidorov said.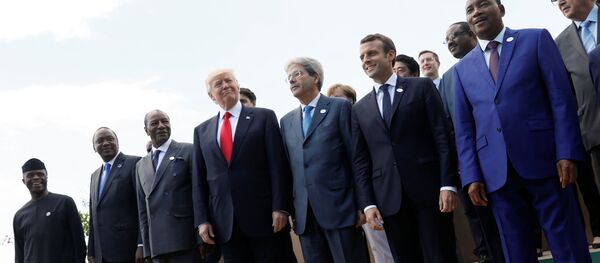 According to him, Trump "returns to the United States from the Middle East trip as a winner, since he also managed to restore relations with US ally Israel, which had been spoiled by his predecessor Barack Obama."
Touching upon Washington's ties with the EU and NATO, Sidorov said that "in Europe, Trump showed who is the real master of NATO and who determines the alliance's policy" by achieving the consent of NATO members to increase defense spending on the organization.
"In general, Trump showed himself as a skillful negotiator. His [first] foreign policy tour can be assessed as quite successful, from the point of view of Trump's positioning," Sidorov concluded.
Never miss a story again — sign up to our Telegram channel and we'll keep you up to speed!