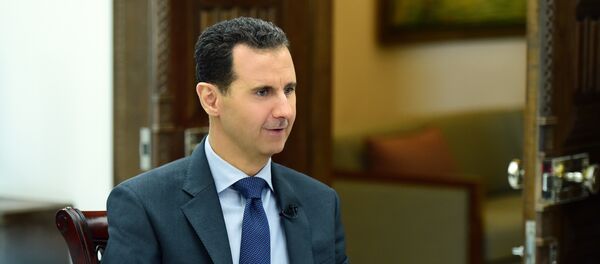 MADRID (Sputnik) — Macron on Wednesday said that he does not consider the resignation of Syrian President Bashar Assad an indispensable precondition for the settlement of the conflict in Syria.
"I have a new take on this issue, and I'm not saying that the departure of Assad should be a precondition, since I do not see who could become his legitimate successor," Macron said in an interview with a number of European newspapers, including the Spanish El Pais.
He said he was deeply convinced that a diplomatic and political roadmap was needed to settle the conflict, and not just deployment of the armed forces.
"My position is clear: the first is an unconditioned struggle against terrorist groups. They are our enemies," the French president said.
He called on the countries participating in the fight against terrorism to cooperate.
"We need to cooperate with everyone, especially with Russia, to eradicate them," he added.
The French leader called stability in Syria the second necessary condition for the settlement of conflict.