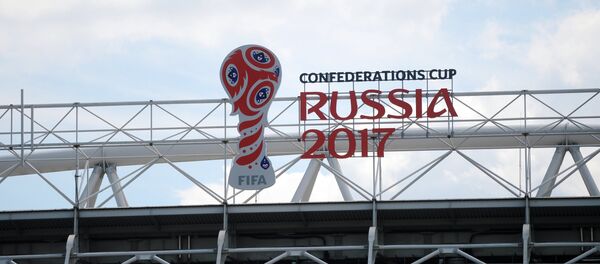 "Despite fears about hooligans ahead of the World Cup in 2018, [foreign] supporters have found friendly hosts and efficient organization," a pleasantly surprised
The Guardian wrote
.
Well, the newspaper had every reason to be surprised after all the time and effort it had spent stoking up fears that foreign fans risked being torn apart the moment they set foot in Russia.
It hasn't been long since The Guardian warned that the Russians are one big bunch of died-in-the-wool racists after just seeing a photo of a black-painted man with a drum posing as a Cameroonian during a Sochi carnival march held shortly before the Confederations Cup kicked off.
Not to be outdone, other British media outlets readily joined in the fray churning out the notorious "Russia's Hooligan Army" documentary and images of traditional Shrovetide mock fistfights by some imaginary "Russian hooligans" readying for a bloody showdown with the Brits.
After reading and watching all this hairy stuff, poor European fans apparently arrived in Russia with little hope of ever getting back in one piece only to enjoy a warm welcome, free transit between Moscow, St. Petersburg, Sochi and Kazan, plus friendly ticketing and fan-identification systems manned by smiling and helpful staff.
"Russians might be stereotyped for their cold exteriors, but they have warmly embraced these visitors from across the globe," The Guardian had to admit.
Apparently disappointed by this placid atmosphere, some of the more aggressively —minded British aficionados decided to go it alone.
Posing as members of Bigballs Media Company, purportedly tasked with checking out the stadium's security system, they tried to make their way inside only to be stopped, admonished and set free.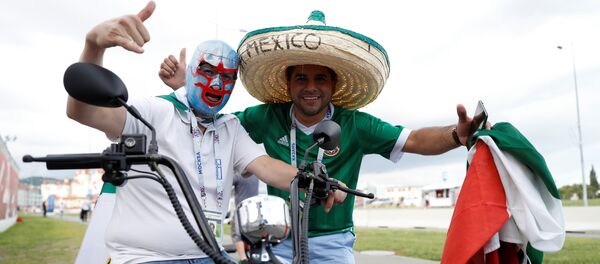 Too bad for The Guardian, which has nothing creepy to write about, which is good, because the more people see things with their own eyes the  less effective the scary stories being churned out by mainstream media become.
Take the Portuguese, for example. They watch the BBC and read European papers all right, but they have no fear of "Russian hooligans." People say that the only trouble-makers they saw before and after the Russia-Portugal game in Moscow spoke Portuguese.
Maybe it's now time for the Brits to spread the word of truth and tell their buddies back home that they will be 100 —percent safe coming to next year's World Cup in Russia.
The 2017 FIFA Confederations Cup kicked off in Russia on June 17 and will be held until July 2 in four cities, namely Sochi, Kazan, St. Petersburg and Moscow.
The tournament involves Russia (host country), Germany (2014 World Cup winner), Australia (Asian Cup winner), Chile (American Cup winner), Mexico (CONCACAF Gold Cup holder), Portugal (European champion), Cameroon (Africa Cup of Nations winner) and New Zealand (OFC Nations Cup winner).