This week, during his visit to France, President Poroshenko sat down for an interview with Le Figaro, which probed him on the origins of the rampant corruption which plagues his country. According to Poroshenko, the roots of this problem can actually be traced to Ukraine's Soviet past.
"It comes from the past, from the corrupt Soviet system, which had become deeply rooted in society and in everyone's spirit," Poroshenko said, in effect blaming a country which hasn't even existed for over a quarter of a century for Ukraine's present problems.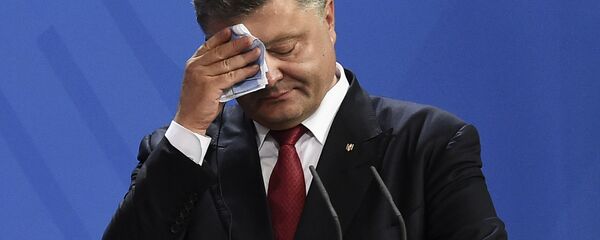 As far as his government was concerned, Poroshenko stressed that it had achieved 'tremendous results' in the fight against corruption and in implementing reforms. "It is not easy to reform a country that's at war. But that's what we've been able to do," he noted.
Last week, Ukrainian lawmakers announced plans to launch impeachment proceedings against Poroshenko, citing corruption, abuse of power, and profiteering amid Kiev's ongoing war in the Donbass.
Earlier this month, a poll by a leading Ukrainian sociological research company found that 75% of Ukrainians believe their country is 'in a state of collapse', with 85% describing the situation as 'chaotic.' 65% blamed government corruption and incompetence for the problems facing the country, with 54% also saying the civil war in the southeast was to blame.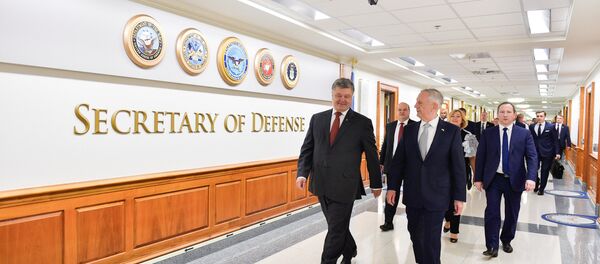 Aside from his duties as president, Poroshenko is known as being one of Ukraine's most prominent oligarchs, building up his wealth under mysterious circumstances in the confectionary and machine-building industries during the chaotic period following the collapse of the USSR. 
In the mid-1990s, his company took control of several state-owned confectionary enterprises, earning him the nickname 'Chocolate King'. During the 2000s, Poroshenko complemented his business activities with a budding political career, becoming a member of the parliamentary budget committee, where he was soon accused of embezzling funds. In 2005, he and Prime Minister Yulia Tymoshenko launched recriminations against one another for alleged underpriced privatizations of state-owned companies. Before the 2014 Maidan coup d'état, Poroshenko picked up several other posts, including foreign minister and minister of trade, under both pro-Western and pro-Russian governments.
© Sputnik / Maksim Blinov
 / Go to the mediabank
Box of Roshen chocolates, just part of the Ukrainian president's business empire.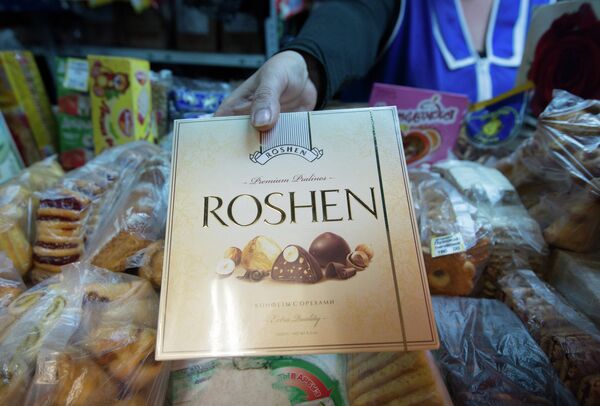 Box of Roshen chocolates, just part of the Ukrainian president's business empire.
© Sputnik / Maksim Blinov
/

Last year, German media alleged that Poroshenko had created an offshore company in in the British Virgin Islands in 2014, at the very height of the war in the Donbass. The so-called Panama Papers
confirmed
that he had done so, thus directly violating the Ukrainian Constitution's provision stating that the creation of businesses while in office was illegal for the president. Poroshenko had promised to sell his 'Roshen'-based confectionary empire during the 2014 snap presidential election campaign, but later reneged. 
Poroshenko's net worth is estimated at anywhere from $720 million to $1.3 billion. In 2015, a year after becoming president, a ranking by Novoye Vremya magazine showed him rising in the ranks of top 10 richest Ukrainians from 9th to 6th, becoming the only businessman in the top 10 list to increase his fortune.