With war tensions raging in Syria, the White House's statement regarding the alleged Syrian government's "preparations" for "yet another" chemical attack has obviously added to the prevailing atmosphere of mistrust and apprehension.
"The United States has identified potential preparations for another chemical weapons attack by the Assad regime that would likely result in the mass murder of civilians, including innocent children. The activities are similar to preparations the regime made before its April 4, 2017 chemical weapons attack," White House press secretary Sean Spicer wrote on June 26, providing no proof to confirm the statement.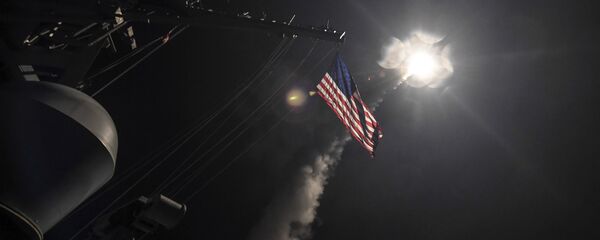 "If Mr. Assad conducts another mass murder attack using chemical weapons, he and his military will pay a heavy price," Spicer added.
Shortly after the statement, CNN cited anonymous US defense officials, that the Pentagon had deployed ships and aircraft on standby to attack Syrian government forces if ordered to do so by President Donald Trump.
These developments caused a great deal of concern among Russian politicians and observers, who suggested that Washington may strike Syria under a cooked-up pretext.
The chain of the recent events contains one flawed link: there is virtually no evidence that the Syrian Arab Army conducted the much-discussed chemical weapons attack on Khan Shaykhun, a town in the Idlib Governorate in Syria, on April 4, 2017.
Furthermore, there is no proof that it was an "air strike" with sarin-loaded munition.
Just a day before the White House "unveiled" the supposed Syrian plan, Pulitzer-Prize winning journalist Seymour Hersh published an article concerning the April 4 chemical incident in Idlib and Washington's "retaliatory" Tomahawk strike on the Syrian Arab Air Forces airfield on April 7. 
"Trump issued the order despite having been warned by the US intelligence community that it had found no evidence that the Syrians had used a chemical weapon," Hersh wrote for Welt Am Sonntag newspaper on June 25, stressing that "some American military and intelligence officials were especially distressed by the President's determination to ignore the evidence."
© Sputnik / Mikhail Voskresenskiy
 / Go to the mediabank
The body of a plane burned as a result of the US missile attack on an air base in Syria. File photo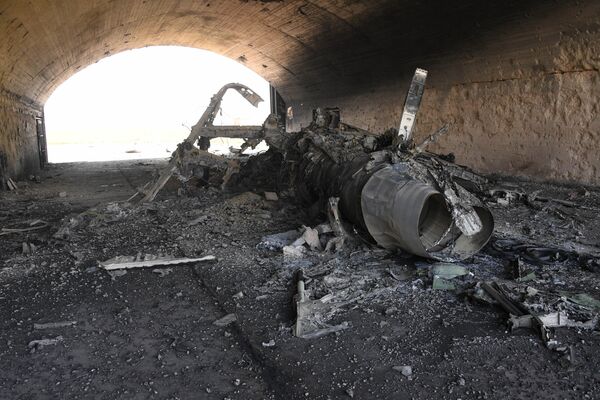 The body of a plane burned as a result of the US missile attack on an air base in Syria. File photo
© Sputnik / Mikhail Voskresenskiy
/
The investigative journalist also presented a chat protocol of a security advisor and an active American soldier on duty at a key base in the Middle East.
"We KNOW that there was no chemical attack," the American soldier wrote on April 6. "The Syrians [Syrian Arab Army Air Force] struck a weapons cache (a legitimate military target) and there was collateral damage. That's it. They did not conduct any sort of a chemical attack."
Sputnik got in touch with a former US State Department official with the knowledge of the matter, asking him to comment on Hersh's report and the piece of evidence the investigative journalist presented.
"Sy's [Seymour Hersh] article is authoritative and truthful. I think it speaks for itself," the former State Department official, who spoke on conditions of anonymity, told Sputnik.
When asked whether his/her confidence that Hersh's findings are truthful and data authentic is based either on the Pulitzer-Prize winner's reputation or firsthand information, the former official responded: "I know that Sy's information is reliable. That is apart from his impeccable reputation."
© REUTERS / Ammar Abdullah
A man breathes through an oxygen mask as another one receives treatments, after what rescue workers described as a suspected gas attack in the town of Khan Sheikhoun in rebel-held Idlib, Syria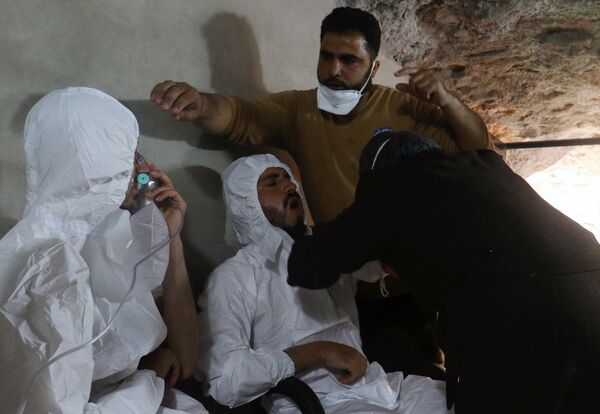 A man breathes through an oxygen mask as another one receives treatments, after what rescue workers described as a suspected gas attack in the town of Khan Sheikhoun in rebel-held Idlib, Syria
"Here is the bottom line, those who insist that sarin [nerve gas] was used by the Syrian armed forces have not supplied one piece of actual, firsthand forensic evidence," the former State Department official highlighted.
Indeed, in April 2017, the OPCW fact-checking mission examining the alleged use of chemical weapons in Khan Shaykhun claimed that it had found traces of sarin on the victims' bodies.
The American and French intelligence reports on the matter immediately pinned the blame on President Bashar al-Assad and the Syrian government forces.
However, these allegations were later refuted by Theodore A. Postol, Professor Emeritus of Science, Technology and National Security Policy at the Massachusetts Institute of Technology (MIT) who threw into doubt both the claim that the alleged "attack" was a result of a munition dropped by an aircraft and that the substance in question was "sarin."
For his part, Hersh expresses his deep concerns about Washington's pointing the finger at the Syrian leadership before scrupulous examination of the incident had been carried out.
"Sy Hersh is one of the world's most accomplished investigative writers, and I am certain he works carefully as ever, validating sources for his analysis," Wall Street analyst and investigative journalist Charles Ortel told Sputnik, commenting on Hersh's report.
"His observations in the recent piece resonate with my initial reaction to what was generally reported as and after the April 2017 incident — I am not a military expert, but I have read that sarin is a potent weapon. So, I remain suspicious about videos released that show medical personnel treating victims [in Khan Shaykhun], but not wearing the kind of bulky protective gear that I understand should be worn, in an abundance of caution, when potentially interacting with sarin," Ortel noted.
The question then arises as to why the White House had "ignored" the US military intelligence about the April 4 incident ahead of the April 7 Tomahawk strike on the Syrian government's airfield; and why it continues to accuse Assad of the supposed use of chemical weapons.
"When we say 'the White House,' we are speaking of a group of persons who, even now, are still finding their feet operating a vast set of organizations, without a wholly reliable support staff. As we have seen in numerous cases since 20 January 2017, Obama Administration holdovers, Clinton loyalists, and 'Never-Trumpers' leak, resist, and cheer any mistakes that the Trump team may make along the way," Ortel responded.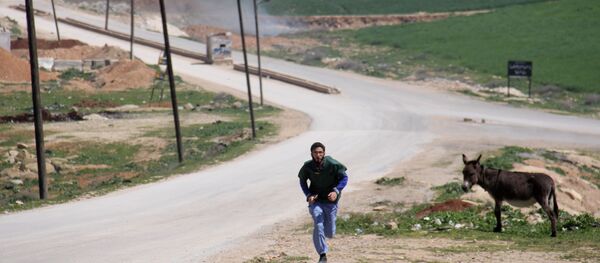 "Particularly since 11 September 2001 in 'fighting Islamists,' US and allied policies have not yet secured victory in the longest, costliest set of battles (in financial and strategic terms) we have ever prosecuted. So it behooves the Executive Branch and our Military to engage with true experts as well as with our public to shape strategies and tactics that can win, and then to carry them out effectively," the Wall Street analyst pointed out.
Commenting on the White House's demonstration of force on April 7, Ortel assumed "that political operatives were keen to draw a favorable contrast with the former President, whose words seldom translated into meaningfully positive actions."
"In the end, I wonder how and whether America's strategic interests have been advanced by this tactic," he remarked.
Meanwhile, on Wednesday, US Defense Secretary Jim Mattis announced that Syrian President Assad appeared to have heeded the White House's warning not to carry out a chemical attack.
"It appears that they [the Syrian government] took the warning seriously," Mattis said. "They didn't do it."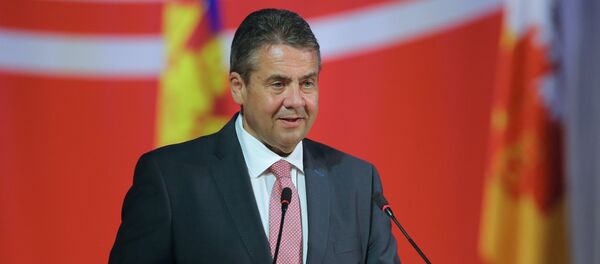 The unfolding situation over Syria raises a lot of questions and prompts thoughts of some hidden games which could have been taking place both in Washington and in the Middle Eastern region.
"Clearly, there are numerous moving pieces in the ongoing campaigns to rid ISIS [Daesh] and Islamists from Syria, Iraq, and elsewhere," Ortel noted.
"Narrowly within Syria and Iraq, I hope that America and key allies as well as Russia are engaged in forward-looking, informed discussions to plan for the aftermath of dispatching ISIS [Daesh] and others, so that the world does not trade trouble for wider chaos and conflagration," he emphasized.
"That said, acting militarily regarding claims about presence of chemical weapons has proven to be a dangerous course starting with the stated pretext for entering Iraq in 2003," the Wall Street analyst highlighted.
"I think Americans and the wider world deserve better answers to the questions that Hersh and that you pose," Ortel concluded.
The views expressed in this article are solely those of the author and do not necessarily reflect the official position of Sputnik.