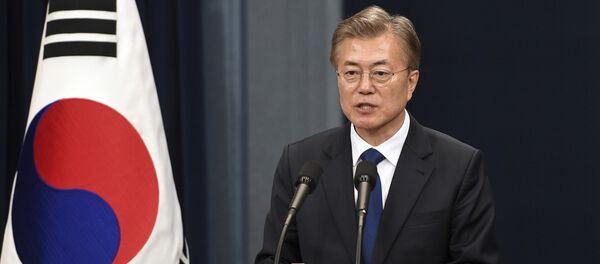 WASHINGTON (Sputnik) — South Korea's new President Moon Jae-in on Friday lashed out at China for what he described as attempts to change his government's sovereign decision to bring in US missiles.
US Ambassador to UN Nikki Haley claimed earlier this week that Beijing was pressuring the South Korean leader into getting the Terminal High Altitude Area Defense (THAAD) system out of the country.
"I think it is wrong for China to try to illegally influence South Korea's sovereign decision. I understand China's concerns over [THAAD] deployment but its economic measures are unfair and I strongly urge China to cancel them," Moon said during his first trip to the United States since becoming president.
South Korea has said that THAAD — designed to intercept short, medium and intermediate ballistic missiles at the terminal incoming stage — will protect it against a strike by the North. China has argued that the system destabilizes the region and retaliated in March by imposing a series of economic bans that hurt South Korean businesses.
Apart from China's concerns, the South Korean government has also been under pressure from environmentalists and the local population, prompting Seoul to suspend the THAAD deployment and announce a full-scale assessment of the system's environmental impact.