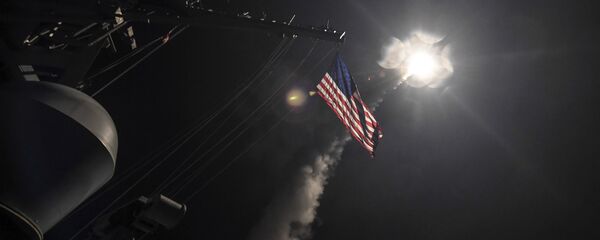 On Wednesday, CNN, citing anonymous US defense officials, reported that "the US military has ships and aircraft in place to strike Syria if ordered to do so by President Donald Trump, but so far it does not appear as if the Syrian government has made any further moves toward a chemical weapons attack."
The report followed the claims of the White House that the United States allegedly "observed potential preparations for another chemical weapons attack by the Assad regime."
"For now, Syria's Shayrat airbase remains under constant overhead surveillance by the US for further signs of whether a chemical strike may be in the works. The US recently observed the movement of an aircraft and chemical agents on a base toward possible preparation for an attack, leading the White House to issue a public warning late Monday that Syrian President Bashar Assad would pay a heavy price for chemical weapons use," the broadcaster said.
It further quoted Defense Secretary James Mattis as saying that "he believes Syria has backed down."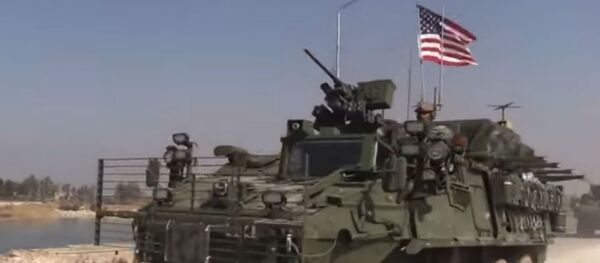 "It appears that they took the warning seriously," Mattis told reporters during a trip to Brussels for a NATO meeting. "They didn't do it."
Nikki Haley, the US ambassador to the UN, also told Congress that "Trump's warning stopped the Assad regime."
Commenting on the above report, Alexander Gusev, a political analyst and director of the Institute for Strategic Planning noted to Sputnik Radio that the US broadcaster has previously discredited itself more than once, however this time the information might be truthful.
He pointed out that CNN reported on the aircraft carrier USS George H.W. Bush, along with two destroyers and two cruisers being deployed in the eastern Mediterranean Sea for routine patrol positions.
"The destroyers and cruisers could fire Tomahawk missiles without putting pilots in manned aircraft at risk. In addition, dozens of aircraft already in the Middle East for operations against ISIS (Daesh) in Syria and Iraq could be used in a potential strike," the broadcaster said.
In this connection, Alexander Gusev recalled the US missile attack on April 7, when it fired Tomahawk missiles at Shayrat airbase following claims that President Assad allegedly launched a chemical attack at Syria's Khan Sheikhoun. Damascus rejected all the accusations.
"It was absolutely clear, even to Americans, that President Assad had not used any chemical weapons. It was a clear provocation. In this particular case, the US can also go the length of unprecedented measures as a response to the unverified claims and fire Tomahawks at the Shayrat airbase. And it might lead to very serious escalation of the Syrian conflict," he stated.