MOSCOW (Sputnik) – The Kremlin has not heard anything about a US journalist's claims that the martial arts skills of Russian President Vladimir Putin widely covered by media, were "a fraud," Kremlin spokesman Dmitry Peskov said Thursday.
"No, we have not heard [about the reports]," Peskov said answering a relevant journalist's question.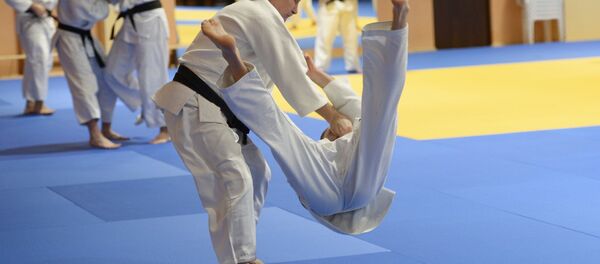 9 January 2016, 18:32 GMT
According to the Washington Post, Wittes initially issued his challenge in October 2015 and reiterated on July 15.
Putin's passion for judo is well-known as he participated in a number of public training sessions over the years. The Russian president started practicing judo at the age of 11 and currently holds the title of Master of Sports in the Japanese martial art.
In 2006, Putin became the honorary president of the European Judo Union, while in 2010 he was awarded an honorary doctorate in judo from South Korean Yong In University.