On Wednesday, Russia's lower house of parliament, the State Duma, called on European lawmakers to prevent the destruction or desecration of monuments to soldiers who liberated Europe from Nazism and to join efforts to counter any attempts to revive fascism in all its forms.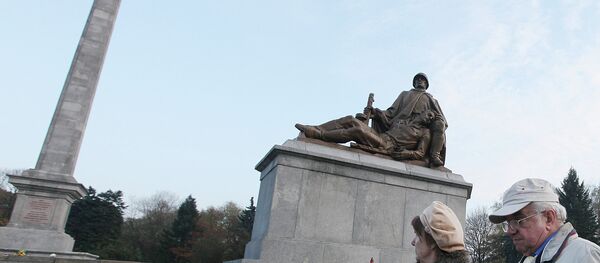 The appeal followed the decision by Polish authorities to demolish Soviet monuments in the country.
"The State Duma's appeal is very important and I think that Europeans should pay attention because the destruction of monuments erected as a sign of gratitude to the Red Army is an insult to the memory of the thousands of Soviet soldiers who died liberating Europe," Mikhail Myagkov, director of Russia's Military History Society, told Sputnik.
He added that the appeal should strike a chord in those in Europe who believe that Europe and Russia have many shared interests.
"We share memories of the Second World War where we fought side by side against a common evil. To prevent it from rearing its ugly head again, we must resist all attempts to vilify the Soviet Army, desecrate its memory and whitewash the history of the Third Reich," Myagkov emphasized.
He also underscored the importance of historically correct exhibitions and documentaries providing people with an unbiased picture of the not-so distant past.