MOSCOW (Sputnik) — Michael Lynk, the UN special rapporteur on situation of human rights in the Palestinian Territory, has accused Israel of human rights violations amid the ongoing crisis around the Temple Mount in Jerusalem and called on Tel Aviv to end the "occupation" of East Jerusalem and other Palestinian lands.
"The short-term response has to be calling international attention to the ongoing violations of human rights in Jerusalem and the rest of the oPt, and to state, strongly, that this treatment is unacceptable. The long-term solution has to be a complete end to the occupation, and a creative solution to Jerusalem that honors the full and equal rights of all Jerusalemites," Lynk told Tasnim News Agency in an interview published on Thursday.
The Temple Mount, which is the third holiest site in Islam, was equipped with metal detectors and surveillance video cameras to monitor its territory after deadly shooting at the site on July 14 that left two Israeli police officers killed. The measures led to violent clashes in Jerusalem and the West Bank over the weekend and forced Palestine to suspend contacts with Israel over several Palestinian deaths. So far, at least four Palestinians have been killed and dozens more injured.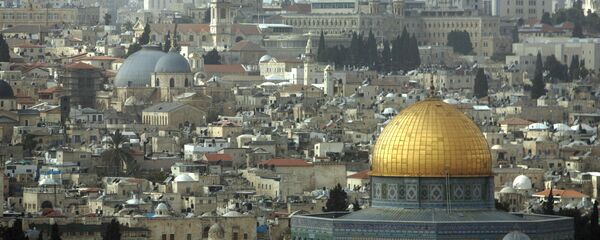 According to Lynk, "Israel cannot make unilateral decisions about the management of the… Temple Mount."
Earlier in the day, Israeli authorities decided to remove the remaining metal detectors and surveillance cameras at the entrances to the Old City and the Temple Mount in the city of Jerusalem in a bid to ease Arab-Israeli tensions triggered by the recent restrictions. The Grand Mufti of Jerusalem Muhammad Hussein declared an end to the dispute over a holy Muslim and Jewish site, and encouraged worshipers to pray at its premises, however, the director of the Al Aqsa mosque, Ahmed Omar Kiswani, told Sputnik that Jerusalem's Arab Muslim community will continue protests near Bab al-Asbat, the north-eastern gate to the Temple Mount, until the Bab Huta gate is open.
On July 15, Israeli Prime Minister Benjamin Netanyahu said Israel would take all necessary measures to ensure security at the Temple Mount and maintain its status quo. The status quo suggests that the holy site, where the mosques of al-Aqsa and Qubbat al-Sakhra stand on the ruins of ancient Jewish temples, is under the autonomous administration of the Islamic religious trust Waqf. Only the followers of Islam can pray on the site, while representatives of other religious traditions are allowed to visit it freely.