CHISINAU (Sputnik) — Romanian authorities have prevented a plane carrying Russian Deputy Prime Minister Dmitry Rogozin en route to Chisinau from flying over the county's territory, Russian Ambassador to Moldova Farit Mukhametshin told Sputnik Friday.
"The Romanian authorities did not allow a passenger jet carrying Russian Deputy Prime Minister Dmitry Rogozin to fly over Romania's territory. The aircraft was flying to Chisinau," Mukhametshin said.
The aircraft was forced to turn back, the Russian authorities will decide where it will land, the ambassador added.
According to the carrier, Romania has refused the entry of Russian S7 carrier plane into its airspace because Russian Deputy Prime Minister Dmitry Rogozin, who is on a sanctions list, was on board.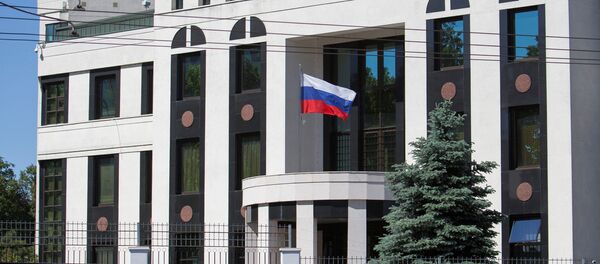 "Regular flight S7-157 on route from Moscow to Chisinau was prohibited from entering the Romanian airspace by the Romanian air traffic control under the pretext of a sanctioned person being on board," the S7 company said.
According to the deputy prime minister himself, the decision of the Romanian authorities was a "demarche to the Moldovan president."
"This is also a demarche against the Moldovan president," Rogozin said.
The Russian official later said on Twitter that the Romanian authorities had endangered the lives of those on board of the plane.
"Just wait for the response," he added.
Румынские власти подвергли опасности жизни пассажиров рейсового самолета S7, женщин и детей. Топлива хватило до Минска. Ждите ответа, гады https://t.co/FC1C0wmBHp

— Дмитрий Рогозин (@Rogozin) 28 июля 2017 г.
​​On Wednesday, Moldovan President Igor Dodon said that Rogozin had confirmed his plans to visit Moldova despite proposals of country's authorities to cancel the visit as the delegation had reportedly planned to arrive in the European nation using the aircraft of Russia's Aerospace Forces.
Dodon criticized his government in comments to Sputnik on July 20 over the possible cancellation of Rogozin's visit as an unfriendly move.
The incident with Rogozin's flight to Moldova was not the only one involving Russian citizens that took place during the week. On Thursday, Moldovan authorities banned a group of Russians, including those heading to Transnistria to participate in the celebrations of the 25th anniversary of the peacekeeping mission in the region, from visiting the country.