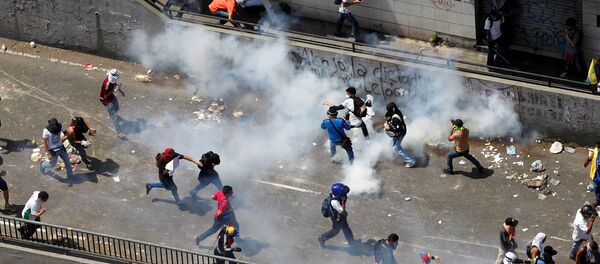 MEXICO CITY (Sputnik) — On Monday, the United States has introduced sanctions against Maduro for "undermining democracy" in the Latin American nation.
"I am not afraid of the [US] empire, I am independent president of the free country. They have imposed the sanctions against me due to free election of such institution as the National Constituent Assembly? I am boast of these sanctions," Maduro said on Monday at the event in Caracas, as quoted by the Globovision broadcaster.
In the meantime, US President Donald Trump is likely to impose additional economic sanctions on Venezuela if the leader convenes the National Constituent Assembly, according to US Senator Marco Rubio.
"The sanctions imposed today on Nicolas Maduro are warranted," Rubio said on Monday. "However, I remain confident the president will keep his clear commitment to impose economic sanctions on the regime if they convene the illegitimate Constituent Assembly."
Maduro's assets in the United States will be frozen and American citizens will be prohibited from dealing with the official, the Department of Treasury stated earlier in the day.
Treasury Secretary Steven Mnuchin underlined in a press briefing the Trump administration would continue to monitor the situation in Venezuela and could add more sanctions against Maduro's regime.
On Sunday, Maduro's government held elections for delegates to a national constituent assembly that will be involved in rewriting the country's constitution. A number of people were reported killed during protests that broke out during the vote.
The United States and other nations opposed the election, with Trump warning that Washington would take economic actions against Caracas if it went forward.