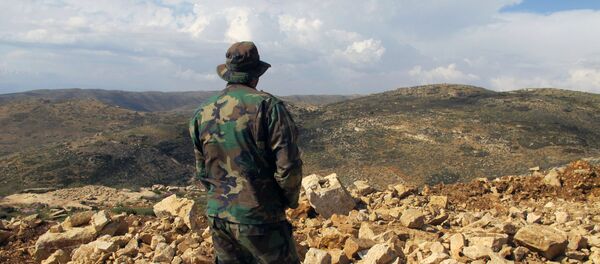 A source in the Lebanese militant movement told Sputnik earlier that a total of 7,777 people – fighters and others – were to leave Lebanese territory under a prisoner exchange arrangement.
Hezbollah in a statement on Monday said that about 9,000 Syrian captives are to be exchanged for five Hezbollah prisoners held by al-Nusra. 
The Syrians, including jihadists and their families, will be transported across the Lebanese-Syrian border to the Idlib and Qalamoun regions of Syria. The prisoner exchange was expected to take place in Aleppo. 
The swap comes as part of a cease-fire agreement between the two militia groups agreed last week. The cease-fire will ensure the departure of al-Nusra militants from the area near the Lebanese-Syrian border.
In an interview with Radio Sputnik, the United Nations High Commissioner for Refugees (UNHCR) spokeswoman, Lisa Abou Khaled, said that the United Nations is not a part of this prisoner exchange agreement.
"We are not in a position at this stage to access how the refugees or the civilians may be affected by this agreement. The UNHCR has still not received access into the areas in order to talk to the prisoners about this agreement," Khaled said.
She further said, "We need to be sure that refugees know what conditions they are returning to and if they are doing so in a voluntary manner and not under pressure from other members of their community and families."
The spokeswoman also spoke about how such exchanges took place before and what role the UN plays in facilitating such exchanges.
"The UNHCR has a presence inside Syria and we would support families who need protection but right now our organization is not involved in the return that is happening. We will, of course, try to access the refugees and their families that are returning now," Khaled concluded.
The withdrawal follows Hezbollah's recent gains in fighting against Syrian militants in Aarsal, a major arms and gunmen smuggling hub. Islamists have been using Syrian refugee camps there as hideouts and recruitment grounds.